JEDEC reportedly set to formalize Dell laptop memory standard
So long, SODIMM – or that's the idea, anyway
The JEDEC standards body is set to adopt the CAMM module format as the next memory standard to supersede the long-standing SODIMM for laptop memory, according to reports.
CAMM, which stands for Compression Attached Memory Module, was introduced by Dell last year on some laptops as a new format ready for DDR5 DRAM technology, with the aim of enabling higher memory density and also supporting higher memory speeds.
But now it appears that the JEDEC Solid State Technology Association intends to take Dell's CAMM design and formalize it into an official standard that other manufacturers will be able to use. This is according to PCWorld, which cites Dell Senior Distinguished Engineer and JEDEC committee member Tom Schnell on the matter.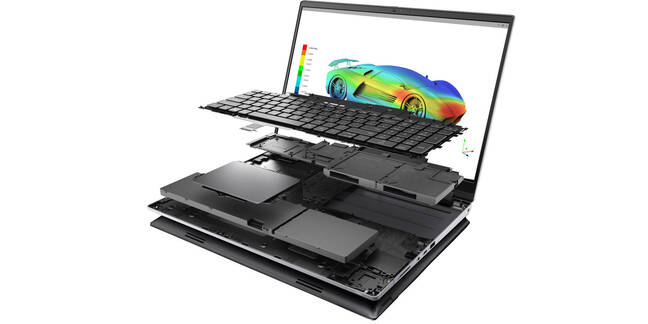 Dell's Precision 7670 with CAMM module – as seen here
Schnell indicates that voting has already taken place to proceed with a draft version of the specifications. "We have unanimous approval of the 0.5 spec," he is reported as saying, with JEDEC aiming to have the 1.0 specifications finalized in the second half of 2023 and production systems based on it out by next year.
We contacted JEDEC for confirmation of these reports, but the organization was not immediately available to respond.
The SODIMM standard has been in use for many years, and the need for a replacement is said to be driven by impending limitations that the specifications will soon bump up against.
These limitations mean that while a laptop could be fitted with DDR5/4800 modules, if a user wanted to fit up to 128GB of memory, it would have to be clocked back to DDR5/4000 performance. CAMM will allow 128GB of memory at DDR5/4800.
Dell's CAMM modules are larger than SODIMMS, but fewer are needed in a laptop and the suggestion is that it will make for easier upgrades for end users with perhaps just a single easily accessible module needing to be replaced.
However, CAMM appears to be Dell's intellectual property currently. It isn't clear whether Dell intends to charge a license fee for every laptop or memory module based on the JEDEC specifications resulting from its technology, or whether the company will waive fees in order to encourage broader adoption.
JEDEC membership extends to over 300 organizations, including many of the largest computer manufacturers and memory industry companies. ®