200MP smartphone and first premium PC spearhead Samsung's pro push
Updated Galaxies dive into Apple territory
Samsung Electronics has unveiled its first premium PC, the Galaxy Book 3 Ultra, and positioned it very much as a MacBook alternative for professional creative types who need to work with colossal image files.
The Galaxy Book 3 Ultra packs an unspecified 13th-gen Intel Core i7 or i9 CPU – Samsung did not provide precise information – a 16-inch 2880 x 1880 screen, and an Nvidia RTX 4070 or 4050 GPU.
The company has dubbed the machine a "creator" laptop – the PC industry's current verbiage for not-quite-workstations that won't choke when asked to work with large files and do double duty running games with ease after hours.
Samsung has packaged a two-month trial of Adobe Lightroom to ram home the point that it wants you to put the Galaxy Book3 Ultra to work editing photos.
And not just any photos: the Korean colossus prefers it if those photos are beamed into the device from the Galaxy S23 Ultra, an updated smartphone that offers a 200-megapixel camera in its rear. Samsung has packed a 6.8-inch screen, 5000mAh battery and a CPU described as "Snapdragon 8 Gen 2 for Galaxy."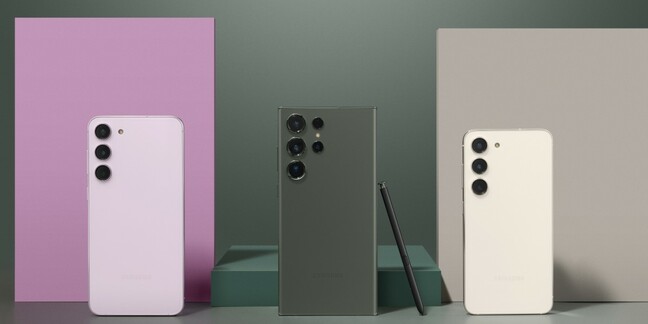 Samsung's 2023 Galaxy Smartphones and notebook computers
Qualcomm has already detailed the Snapdragon 8 Gen 2 Mobile Platform, which is based on its Kryo CPU. Again, Samsung hasn't shared niceties like core counts, clock speeds, or what the "for Galaxy" moniker means.
But the Korean giant has promised enhanced connectivity between its smartphones, laptops, and tablets. Images of the new S23 smartphone range provided to The Register show one of the devices serving as a numeric keypad for a Galaxy Book.
And just in case you forget that Samsung wants its lappies to be used by photo editing pros, it pointed out that its "Expert RAW" software can capture snaps unsullied by image processing software and send those into the mighty CPUs of a Galaxy Book.
That kind of integration is old news in the Apple ecosystem, where the iPhone 14 Pro Max is tuned to the needs of photographers and plays very nicely with Macs.
Apple kit, of course, shares a single OS developer. Samsung has Microsoft and Google, and therefore Windows and Android, cooperating like never before.
The S23 Ultra also plays nice with Google Workspaces as it's now possible to edit notes on its screen with the S-Pen and collaborate in real time with folks on other platforms.
The S23 and S23 Plus handsets are now 6.6-inch affairs distinguished by a 4,700mAh battery in the Plus and a mere 3,900 in the S23. The rear camera constellation offers 50MP, 12MP, and 10MP shooters, with a 12MP selfie cam imbued with software that can now pick out hair, eyes, and skin as discrete objects and beautify each accordingly. The devices also boast improved "nightography" features that improve photos taken during darkness. Samsung even claimed shots of the night sky will now better illustrate celestial bodies, making it possible to photograph a galaxy with a Galaxy phone.
The Galaxy Book range has been upgraded to 13th-gen Intel silicon, again with details to come. Some models also sport Intel's Iris XE Graphics. A convertible model, the Galaxy Book3 Pro 360, flips over to become a tablet.
All of the above was announced at Samsung's Galaxy Unpacked extravaganza, the product announcement bonanza staged once the company's annual results have been delivered.
Samsung has provided us with prices for all the S23 handsets, in Australian Dollars.
The S23 Ultra ranges from AU$1,949 ($1,378) for a model with 8GB RAM and 256GB storage to AU$2,649 ($1,878) for a model with 12GB RAM and 1TB of storage.
The S23+ starts at AU$1,649 ($1,166) for an 8GB/256GB model and tops out at AU$1,849 ($1,307) for the 8GB/512GB variant.
The plain old S23 starts with an AU$1,349 ($954) 8GB/128GB model and can also be purchased in a 8GB/256GB configuration for AU$1,449 ($1,024) configuration.
Those are numbers that position the handsets in the oddly robust premium end of the smartphone market.
We're yet to receive prices for the Galaxy Books, which face more foes: Samsung is not a top five PC vendor and the professional users it appears to target are already well served by rivals. ®