Big three cloud giants tighten grip as overall spending slows
The big get bigger
Enterprise spending on cloud infrastructure services slowed in the fourth quarter of 2022, but that didn't stop the big three platforms from taking two-thirds of the entire market.
Cloud spending for the quarter surpassed $61 billion worldwide, which was actually up by more than $10 billion when compared with the same period a year ago, but the rate of growth was slowing in response to various factors in the wider economy.
These figures come from Synergy Research Group, which said that 21 percent growth in cloud spending for the last quarter versus Q4 2021 was "substantially hampered" by the historically strong US dollar and a severely restricted Chinese market.
Looking at just the US market, Synergy said that the growth rate for Q4 was 27 percent, which compares with an average growth rate of 31 percent for the previous four quarters, and that there can be little doubt that the current economic climate has had an adverse impact.
Meanwhile, the three biggest cloud providers – Amazon's AWS, Microsoft Azure and Google Cloud – saw their aggregate share of the total market increase to about 66 percent, up from 63 percent a year ago.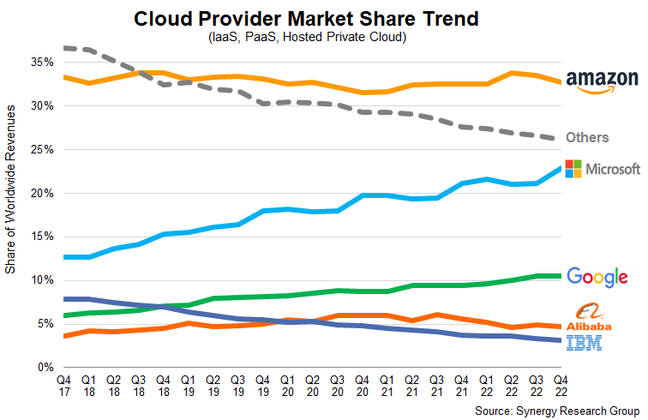 Azure turns out to be the strong performer here, according to Synergy, hitting a worldwide market share of 23 percent compared to an average of 21 percent for the previous four quarters. Amazon, meanwhile, stayed roughly within a market share band of 32-34 percent, while Google's share also stood unchanged from the previous quarter at 11 percent, but up 1 percent from a year ago.
Microsoft has already blamed slowing cloud growth for its modest increase in revenue for the last quarter, while AWS saw "the slowest growth in its history" in recent findings from Uptime Institute.
Of the other cloud platforms, China's Alibaba has 5 percent, while IBM and Salesforce sit at 3 percent, and Oracle and Tencent are at 2 percent of the global share. Others that have a market share of 1 percent or less include Baidu, China Telecom, Huawei, Fujitsu, SAP and Rackspace.
Synergy's figures include cloud infrastructure service revenues for IaaS, PaaS and hosted private cloud services, which the company estimates to have reached $61.6 billion during Q4 and a total of $227 billion for the entire year.
Despite a challenging economic environment, the worldwide market grew by $47 billion during 2022, Synergy said, almost matching the $49 billion growth seen during 2021.
Synergy said that the cloud market continues to grow strongly in all regions of the world, and forecasts that as economies improve and the foreign exchange market stabilizes, the global cloud market will continue to grow strongly over the next several years. ®