That's not a TP-Link access point, it's a… vacuum?
You might say this thing sucks
At first glance, TP-Link's Tapo RV10 looks a bit like a fallen Omada access point that's now leaking a mysterious substance on the floor. In reality, the white and black plastic puck is the company's entry into the robotic vacuum and mop arena.
While TP-Link is best known for its wireless networking and switching equipment, it has been diving deeper into the smart home space over the past few years. At CES last month, the company said it would be releasing an army of robotic janitors to clean your room while a bevy of smart doorbells, cameras, and baby monitors keep watch – we assume for any signs it's plotting a rebellion.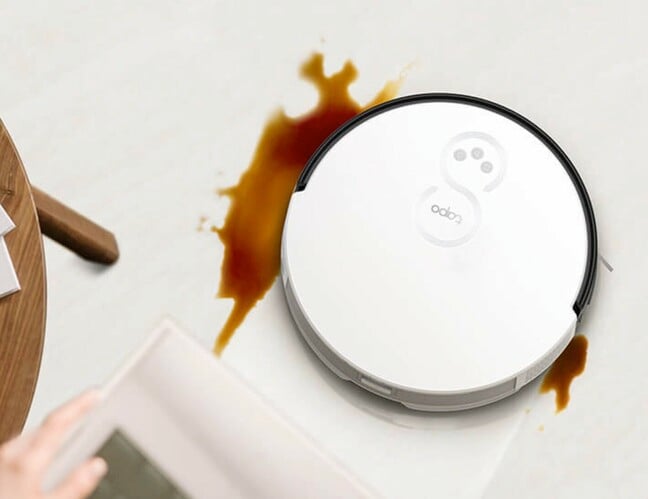 TP-Link's Tapo RV10 sure looks like an Omada access point that's sprung a leak
This week, the company made good on that promise, launching its RV10 iRobot competitor in the US with standout features like "high efficiency zig-zag path planning," four suction modes, an integrated mop, and automatic docking and charging. Oh, and true to TP-Link's roots, it communicates over Wi-Fi.
The RV10 is actually one of three robo-vacs TP-Link has been working on. The mid-tier RV30 features LiDAR to assist with navigation while the company's top-tier RV70 features TP-Link's "triple-AI" tech. While the latter may sound ominous, TP-Link says the AI is only interested in annihilating dust and avoiding obstacles. That's how you'll know it was on purpose if it chews through an Ethernet cord in the middle of your Zoom meeting. However, it's unclear if and when the other two models come to the US.
Like most of TP-Link's smart things, the robo-vacs are controlled using the company's app, which pairs over Bluetooth. And if you like the idea of barking orders at your robotic minion, you have the option of tying it into your Google Assistant and Amazon for voice control.
However, those hoping that the vacuums might double as a self-propelled mesh router – they certainly look the part – will be disappointed to find that while it will clean your floor, it won't be any help getting TikTok to stop buffering at the far end of the house. And even if it could, you probably wouldn't want to as the RV10 only supports 802.11n at 2.4GHz. It's just a vacuum, folks.
For the moment, only TP-Link's RV10 line has been listed for sale in the US starting at $229.99. ®