Qualcomm claims to be 5G Advanced-ready with Snapdragon X75
Bog-standard 5G already old hat by 2024 apparently
Qualcomm is talking up Snapdragon X75 as the first wireless chipset ready with support for 5G Advanced, the next step for 5G networks.
The telecoms-focused chipmaker said the Snapdragon X75 is also the first 5G modem to support 10-carrier mmWave aggregation, plus five-carrier aggregation in sub-6GHz frequency bands, along with claims about better speeds, coverage, link robustness and location accuracy.
Snapdragon X75 is sampling to Qualcomm's vendor customers, with commercial devices expected to launch by the second half of this year, which likely means it won't actually be in end user hands until 2024.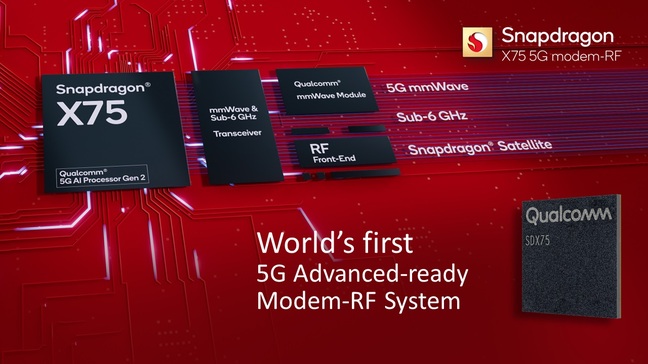 Qualcomm Snapdragon X75
So what does all this mean? 5G Advanced is the label attached to developments coming in Release 18 of the 3GPP standards governing mobile communications - these are not due to be set in stone until March 2024.
Many of these developments are intended to improve on network energy efficiency, coverage, and more flexible and efficient use of radio spectrum. The upshot is that end users will probably not see a big boost in download speeds, at least not immediately; the Snapdragon X75 is supposed to be capable of downlink speeds up to 10Gbps and 3.5Gbps upload speeds, but no network operator is likely to be able to support this just yet.
This doesn't stop Qualcomm from extolling the virtues of having the first chipset ready to support 5G Advanced.
"5G Advanced will take connectivity to a whole new level, fueling the new reality of the Connected Intelligent Edge," said Durga Malladi, senior vice president and general manager, cellular modems and infrastructure.
In particular, Malladi picked out hardware accelerated AI and the support for upcoming 5G Advanced capabilities, which he said will "unlock a whole new level of 5G performance and a new phase in cellular communications."
Qualcomm reckons the upgradeable architecture of Snapdragon X75 means that device makers can offer 5G Advanced readiness for products such as smartphones, mobile broadband, industrial IoT, 5G private networks and fixed wireless access.
Those AI-powered optimizations are built on a dedicated hardware tensor accelerator, which Qualcomm said drives sensor-assisted mmWave beam management and AI-enhanced satellite location services.
Qualcomm said that Smart Transmit Gen 4 technology, which optimizes for more reliable uploads, now includes support for Snapdragon Satellite, the connectivity service it aims to offer in partnership with satellite operator Iridium.
The Snapdragon X75 Modem-RF System is also set to power Qualcomm's Fixed Wireless Access Platform Gen 3, which targets mobile operators seeking to sell fixed internet connectivity over their 5G network.
As well as the 5G Advanced-ready capabilities, this platform adds Wi-Fi 7 and 10Gbps Ethernet for connecting client devices. ®