Microsoft makes Outlook Mac native email app a freebie
Does it have in-app purchases? You betcha
Working on a Mac but preference or necessity driving you to Microsoft's Outlook? In an unexpected move, the software giant is making its native MacOS mail client free to use, meaning you won't need a subscription to Microsoft 365 or an Office license to fire it up.
The standalone app works across multiple email platforms and was refreshed with tweaks. These include the ability to "set your meetings to always be Teams meetings", which allows you to set them to start or end a few minutes earlier or later; the ability to reply to messages without opening a new compose window; and "Quickly resend the same message again" for the passive aggressive types.
You'll need macOS version 10.14 (Mojave) and later to run it.
The move comes against the backdrop of a huge push by Microsoft to make its iconic email platform more web-centric. As such, one of the first comments on the TechCommunity page was the moan: "And you're saying Mac users get a native version for free while Windows users will have to deal with a PWA (Progressive Web App)?"
Meanwhile, the Windows giant has also clarified it does not expect to update Outlook for Mac to a PWA, with Outlook product manager Jeremy Perdue commenting on the announcement: "Just to be clear, the new Outlook for Mac is a native macOS app. Microsoft plans to continue building and maintaining best-in-class native apps on macOS and iOS. There is no plan to build a web app version of Outlook for Mac."
Perdue also noted that the freebie app would be "ad-supported when using a non-licensed account" - so you can expect to see some in-app purchases pushed.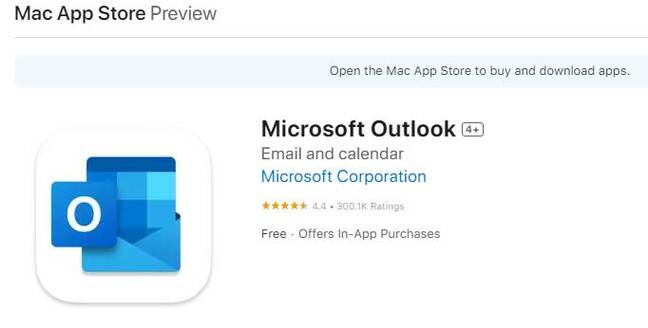 Another wag on Reddit pointed out that the timing was interesting, coming as it does just weeks after the revamp of beloved open-source cross-platform email client Thunderbird: "They're rebuilding Thunderbird from the ground up so maybe MS thinks they need to do it to remain 'sticky'," quipped halfanothersdozen.
In 2022, Microsoft released a preview of its completely overhauled Outlook for Windows client as it moves towards a "unified" look across all of its platforms, based on the design of the Outlook.com web app. It has been publicly testing the revamped email app for Windows since May last year. Redmond updated its Microsoft 365 Roadmap last week to say the toggle to try the preview of the new Outlook for Windows will be available to customers with access to the classic Outlook for Windows and a Microsoft 365 subscription as soon as April. The toggle has been available for Insiders since May 2022. The Outlook Windows app is based on the web version and has been described as a hybrid of this and desktop Outlook, albeit with a refreshed design and a some welcome extra features.
Also known as Project Monarch, or the "One Outlook" client, it is being developed with the aim of bringing consistency across Outlook's Windows and web codebases. ®