Four charged with swiping $1m+ of gear from Microsoft cargo trucks
Talk about off the back of a lorry
Four men accused of stealing more than $1 million worth of products from Microsoft's cargo trucks in the US have been charged with multiple counts including felony grand theft. California state police arrested two of the suspects on February 2, and the other two remain at large.
According to a felony complaint [PDF], between February and June 2022, the four men — Jorge Alberto Soto, Norlan Jose Cruz Montenegro, Jose Daniel Mayen Ortiz, and Bryon Noe Tercero Cruz — stole Xboxes and Acer products from Microsoft lorries during transit and from the IT giant's warehouses throughout California.
Then, they allegedly registered some of the stolen devices using IP addresses located at Soto's home in Northridge, Los Angeles. Additionally, the cops traced the alleged crooks' mobile devices to several of the hijacked cargo trucks' locations. 
In addition to arresting two of the suspects last month, California Highway Patrol (CHP) seized stolen electronics and cash for evidence.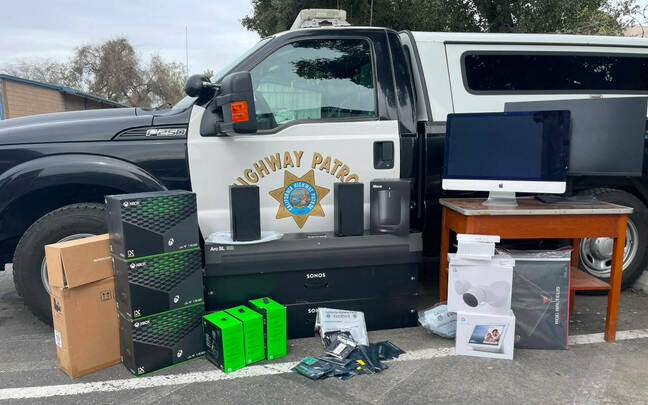 Loot ... Some of the stolen Microsoft gear. Source: California AG
On February 21, California's Department of Justice charged the suspects with multiple counts of felony grand theft, conspiracy, organized retail theft, and white collar enhancement. According to Cali Attorney General Rob Bonta, the alleged haul topped seven figures:
Charges have been filed against four individuals who allegedly stole more than $1 million worth of goods from cargo trucks carrying electronics from @Microsoft shipping facilities. Retail theft–whether from a storefront or a warehouse–hurts retailers, businesses and the public.

— Rob Bonta (@AGRobBonta) March 7, 2023
Last month, CHP nabbed eight suspects for their involvement in another statewide retail theft operation targeting Apple Stores that resulted also in a loss of about $1 million. 
"Retail theft — whether from a storefront or a warehouse — hurts retailers, businesses, and the public," Bonta said in a statement at the time.
"My office and our partners statewide continue to make arrests and file charges against those conducting brazen theft and targeting businesses in California."
This scheme involved miscreants allegedly entering stores, and physically restraining employees and customers while stealing thousands of dollars of devices from each location.
Citing a 2020 national survey, state officials say US retailers lose about $700,000 per every $1 billion in sales to organized retail crime. Last year, California spent more than $240 million to combat retail and "other crimes," according to California Governor Gavin Newsom. ®