Lenovo revs up a rackable Aston Martin … workstation?
It's red, it's fast, it packs 4th-gen Xeons and Nvidia RTX 6000s, and it looks like it's been run over by a sports car
Lenovo has updated its range of desktop workstations, given them fourth-gen Xeon CPUs, the ability to handle four Nvidia GPUs, and a grille designed by Aston Martin.
Let's explain the grille first. Lenovo states it is "directly inspired by Aston Martin's iconic DBS grand tourer, applying design insights from the high-performance automotive segment to a desktop workstation."
Which is all well and good, except … workstations don't move. Not at terribly high speed, anyway. At least, they shouldn't.
Here's the three new workstations, and that grille.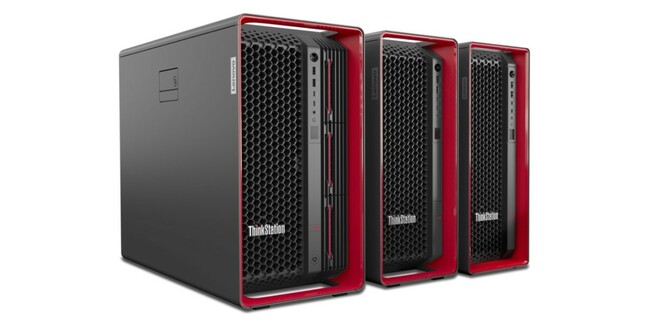 Neither shaking nor stirring: Lenovo ThinkStation PX 2023 range – Click to enlarge
Apparently what you're looking at above is "Aston Martin's design philosophy" applied to "Lenovo's iconic red design language." The result is "Redesigned air baffles and larger 3D hex ventilation openings, along with Lenovo's patented tri-channel cooling system," which delivers "unobstructed airflow – ensuring maximum cold air intake and hot air exhaust."
In other words all the stuff a workstation needs to do. With an aesthetic that looks less James Bond and more like a knobbly tyre ran over the front of the workstation – with oddly pleasing results.
But we digress.
Lenovo's desktop workstation range now begins with the ThinkStation P5, which can handle Intel Xeon W processors at up to 24 cores – the spec of the recently released Xeon w7-3455 – offers slots for a pair of Nvidia RTX A6000 GPUs, support for DDR5 memory, and PCIe 5 to keep everything humming along at high speed.
The P7 can handle Xeon W CPUS with up to 56 cores – probably the w9-3495X – and three GPUs. It's also ready to be racked and will occupy 4U of standard datacenter shelving.
The PX is the big beast of the range as its twin CPU sockets mean it can handle 120 CPU cores. Intel's Xeon W range tops out at 56 cores, so maybe Lenovo knows something we don't about Chipzilla's workstation CPUs. The PX is also rackable.
Here it is, stuffed into a datacenter.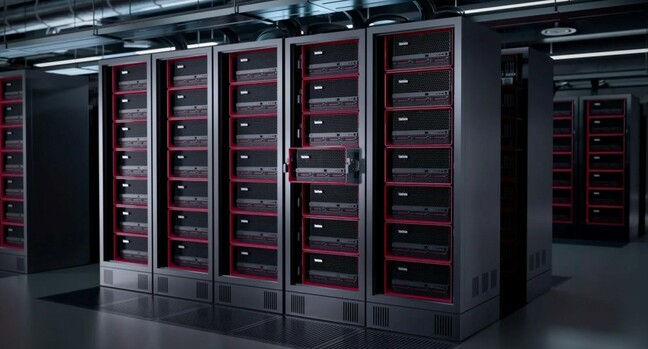 ThinkStation PX in racks – Click to enlarge
Lenovo reckons buyers will appreciate the ability to lug the P7 and PX out of a rack and run them on a desktop, or vice versa.
Racked workstations make sense because, despite laptop workstations now being a thing, few match the performance of machines that simply have more physical space to house multiple GPUs. Remote work therefore doesn't work for some workstation users, making remote access to a rack-mounted workstation a sensible option.
Aston Martin's best efforts notwithstanding, workstations can also run hot and slurp plenty of power – making a datacenter a more hospitable environment
Lenovo's not forgotten smaller workstations: a couple of weeks back the PC giant updated its Tiny in One 24 Gen 4 Touch – a monitor with built-in webcam designed to have a small form factor PC attached – so it can handle the company's Tiny Workstations. Those machines make do with a single 12th-gen Corei5 CPU, making them rather low-end workstations.
The P-Series kit goes on sale in May. Lenovo may struggle to shift many of them, given analyst firm IDC's recent assessment that workstation sales have gone over a proverbial cliff. ®