Reg FOSS desk test drive: First beta of Fedora 38 drops
Spoiler: It's looking much better than 37 did at this stage
The Fedora project has released the beta version of Fedora 38. The Reg took it for a spin, and it handles well.
The beta version of Fedora 38 is here, hitting the "early target" in its schedule. As usual, there's an extensive changeset, which is worth scrutinizing for the full details of all the various subcomponents. We tried the beta in both VirtualBox and on bare metal, and so far, it has worked flawlessly – which is particularly impressive given the issues we had with Fedora 37 when it was at the same stage.
We've covered some of what's going into this release already, and we try not to repeat ourselves. Among the more visible changes, there will be two new "spins": one with Budgie and one with Sway. Also, earlier this month, it turned out that some "legacy" components aren't being dropped just yet. The default Workstation edition will come with GNOME 44, which itself just recently reached Release Candidate status and brings some welcome improvements.
Among other highlights, it comes with the latest kernel 6.2. (Incidentally, this will also be used in Ubuntu 23.04, although that's not yet reached beta stage – that milestone should be at the end of this month.)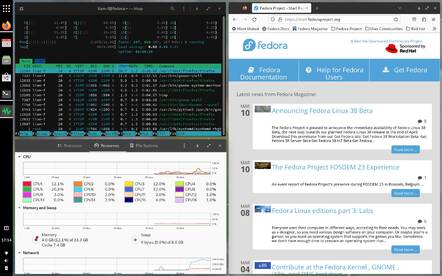 Fedora 38's GNOME 44 can be turned into something snazzy with Forge and Dash-to-Panel.
Fedora 38 also includes the shiny new GCC 13 suite, as well as the even newer LLVM 16, along with many other languages, as we described back in January. The latest Xfce 4.18.1 and KDE 5.27 will be options. Fedora will also drop its new Initial Setup tool: it's superfluous here, as the project says everything gets configured at installation time via Anaconda.
There are several minor security improvements, including SSH hostkeys, slightly stricter build flags (_FORTIFY_SOURCE goes from 2 to 3), and the Rust-based Sequoia PGP in the RPM tools. This release will also use Google's universal Noto font for Khmer and Thai.
We tried it in both in VirtualBox 6 and on the bare metal of the Lenovo ThinkPad X1 Carbon Gen 10 that we looked at recently. It installed without a hitch in both, and included drivers for the virtual display, so that under X11 it resizes with the host window. On the Thinkpad, it ran very smoothly, both under Wayland and X.org. There's no handy ticky-box for enabling fractional scaling under Fedora, so we used this shell command:
gsettings set org.gnome.mutter experimental-features "['scale-monitor-framebuffer']"

This worked perfectly, and after a reboot, GNOME's default scaling factor was 1.75. This is just about right on the X1 Carbon, giving sharp text and window contents, but a welcome increase in the amount shown on screen. Before, the Display settings page offered just 100 percent, 200 percent or 300 percent; once it's enabled, the same page has a drop-down menu with a wide list of factors from 100 percent to 350 percent in 25 percent steps.
We also tried the Budgie desktop, which worked perfectly well, but has a disappointingly conventional, Windows-like layout by default. The Reg FOSS desk still doesn't get on with GNOME's window management: it seems to us to be aimed at people who don't really do window management. For us, a better alternative is to automate window management, so we experimentally installed the Forge extension, which brings Pop_OS! Cosmic-style tiling to vanilla GNOME. It worked a treat, even on the release-candidate version of GNOME – especially coupled with an extension to make better use of GNOME's wide, but empty and unused, top panel, such as Dash to Panel. Both worked fine on this pre-release desktop, and together with fractional scaling, made good use of the Thinkpad's screen.
We were also impressed that Fedora 38 noticed and suggested no less than four firmware upgrades for the machine. We can be pretty fearless when it's not our own kit, so we let it install them. It took nearly an hour, but worked perfectly and made the machine wake noticeably faster from sleep.
Fedora's installation program remains clumsy and awkward, and one of our least favourites in the Linux world – but despite that, we were able to shoe-horn the beta onto a machine with Windows 11 and three other distros without too much problem, complete with sharing the existing /home and swap partitions.
Even in beta form, Fedora 38 looks strikingly better than Fedora 37 did at this stage. It's heading towards being an especially good release. ®