Lenovo Thinkpad X13s: The stealth Arm-powered laptop
A modern RISC computer trying desperately to pretend it's just another PC
Lenovo's Thinkpad X13s is a lovely, if odd, little laptop. It's a modern Arm machine that is trying as hard as it can to resemble a vanilla x86 laptop… and it carries it off.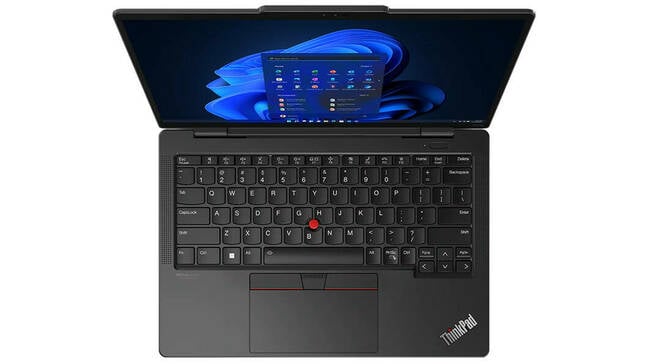 The Thinkpad X13s Gen 1 is not like most other Arm machines. There have been Arm-powered Windows computers – and ChromeBooks – for many years now, but most of them have been phones, or tablets, or convertibles. (And some of those didn't exactly fly off the shelves.) The X13s is not like that: it's just a simple modern laptop, with no touchscreen and no convertability. It just has a keyboard, a trackpad and a trackpoint, as is normal for modern Thinkpads, a couple of USB-C ports, and that's about it.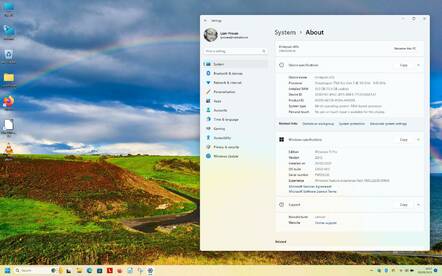 At its full resolution, the X13S's screen gives a good amount of space, albeit with small text
It's worth pointing out that, like the Thinkpad X1 Carbon Gen 10 we tried recently, it has no Ethernet port on-board, and worse still, it has no USB type A sockets, either – nor a monitor connector. So it's not easy to connect a USB key to this machine: you need an external hub for that. Fortunately, we had the Planet Computers one from our Gemini PDA and it worked flawlessy.
Updates, updates and more updates
The X13s comes with Windows 11, and as such, it looks and works like any other Windows 11 PC. So, once we connected it to Wi-Fi – the only way to get it on a LAN – it needed to download umpteen dozens of updates, followed by a restart, followed by another dozen updates, another restart, and repeat until it's going-home time. We returned to it the following day, and there were some new updates. The expression ad nauseam is appropriate.
Of course, long-term Windows users are used to this and will barely notice. Some of them put the updates off until their machine is critically vulnerable, then Windows forcibly installs them, meaning that the owners complain about Windows updating itself at inconvenient times. We always advise getting it out of the way as early as possible.
Windows for Arm64 contains a built-in x86 emulator, and in Windows 11, this also supports x86-64 binaries. In most places, Windows doesn't distinguish between native Arm apps and x86 ones running under emulation. Arm programs still carry the same .EXE extension as x86 programs have since 1981, or possibly .MSI for one of Microsoft's various overlapping package-management tools. Anything you download and run will probably just work, and although the Windows Task Manager still highlights 32-bit binaries, it doesn't distinguish between native and emulated ones. This is both handy and at the same time a critical weakness: the performance of the emulator is decent, but running apps via emulation imposes a performance penalty and uses extra battery power, so you should avoid it if at all possible.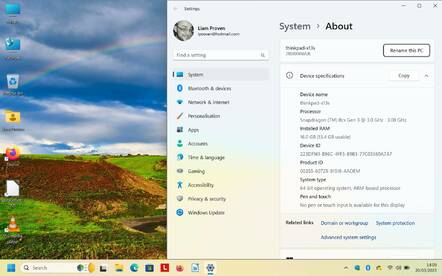 At the recommended 150 percent scale, text is very smooth but you don't get to see much
For instance, we installed the Bing Wallpaper app, which automatically downloads a fresh wallpaper every day from Microsoft's superb collection, and it just worked, albeit displaying the Microsoft level of fit and finish for which the company is justly famed: for instance, the cheerful green tick for successful installation appeared on top of, and mostly concealing, the percentage indicator. Sadly, things which manipulate the internals of the OS may not work, such as the wonderful Explorer Patcher, which re-enables some of the customization options Microsoft, in its finite wisdom, removed from Windows 11 – such as a vertical taskbar.
To get the best from this machine, you should ideally run only native Arm programs. The problem is, there aren't many, and those that exist can be hard to find. Windows 11 comes bundled with an evaluation edition of Office 364, but it's time-bombed, and ours expired about a week after the machine came out of its box. If you have a day-job, that's barely time enough to install all the pending Windows updates. We didn't get to try it for more than one run. We did get to savour an endless succession of warnings that our OneDrive was nearly full. There's no "don't remind me again" tick-box, because this is a revenue-earning opportunity. We were reminded of this because, deprived of the opportunity to properly enjoy Office 363½, we got plenty of time to fully appreciate various Microsoft advertisements to buy their other value-added services, and those of selected trusted partners – an array of companies justly famed for their integrity, customer service, revenue sharing, and worker welfare, such as Amazon, Spotify, and Tiktok.
Office having committed seppuku, that left us with Microsoft Edge, which actually is not bad at all these days, plus the usual Windows baggage of various half-crippled "Modern" applications. Naturally, Modern apps aren't maintained via Windows Update, but only in the Microsoft Store – presumably, it would be less fun if it was all in one place or something. So, we went looking for free native Arm apps.
Our recommendations
This is where the real fun begins. There aren't many, but if you search hard enough, a few FOSS favourites are out there. We downloaded and installed the latest Firefox, the trusty VLC media player, and the 7Zip archive handler. LibreOffice took a lot more hunting; eventually, buried deep in a download FTP directory of unfinished test versions, we found a beta version of LibreOffice 7.5.0 for Windows on Arm64.
All of these installed smoothly and worked fine, and this article was written in Arm LibreOffice. Every time we launched it, it nagged us about crashing last time, offered to salvage open documents and so forth, but this is a red herring: in testing, it didn't crash once. The closest thing to an error was that checking for updates offered us LibreOffice 7.5.1 – but that was the x86-64 version, rather than the Arm we were running.
Being Arm-based does confer some advantages. The machine is only half an inch thick (a tad over 13mm), weighs a kilo (under 2½lb) and has no cooling fans or vents. It runs in total silence, barely warm, and it does it for a day or more. After running for 10 hours, the battery gauge was still half full. When we got it, the battery was flat, and alarmingly, even plugged in it won't turn on until the battery has some charge. There's also no RAM access hatch. Our machine had 16GB, but it is soldered-in and not upgradable, although the 240GB nVME SSD can be replaced.
Like its big sibling the X1 Carbon, it has a 16:10 screen and fancy 5MP MIPI camera with infra-red. The screen is a very pleasing 1920×1200, matte, and 13.3 inches across the diagonal: it's just about usable at 100 per cent scale. The camera can log you in via "Windows Hello", which repeatedly took us by surprise, so we turned it off. Hello also supports the fingerprint sensor hidden in the power button. The X13s has no sliding privacy shield over the camera, though, probably because it's too thin for one to fit.
The Thinkpad X13s gen 1 is a very cute ultraportable laptop. Despite its thinness and lightness, it feels robust, and Lenovo's keyboards are as good as chiclet-style ones get. It desperately needs more ports: having just one USB-C socket available while it's on the mains is not enough. We feel that the machine also needs at least one USB-A, a fold-down Ethernet socket, and a mini DisplayPort or micro-HDMI socket. The headphone jack and SIM slot are nice, but not so useful.
Unlike most Arm devices, it has standard UEFI firmware, and you can disable Secure Boot: it's uncrippled by the three restrictions that killed the Microsoft Surface RT.
The thing is, though, that to get the best out of this, you will need to observe an almost monastic asceticism: pay the extra to unlock Office, and use only the bundled apps or native Windows Arm apps. Deny yourself the temptation of x86 binaries, and the machine will run coolly on battery power for 24 to 36 hours. With native Arm binaries, it's quite fast and very power-efficient.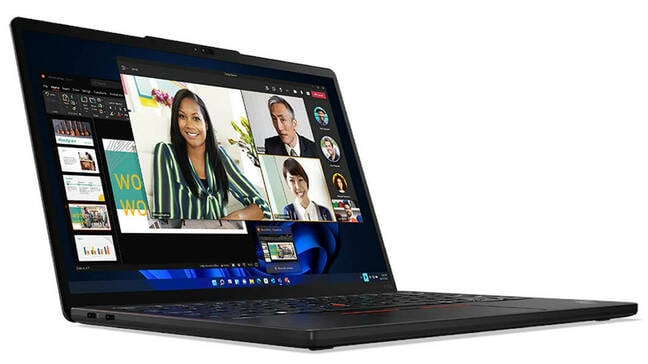 But the Qualcomm Snapdragon 8cx is no Apple M1, and Windows is no macOS. Running x86 apps under emulation is slower and less compatible, to the extent that there's a dedicated compatibility troubleshooter. The thing is, Windows users are a different kind of creature from Debian ones, or perhaps more saliently, Puri.sm's all-Free Software PureOS, for example.
We suspect few Windows enthusiasts can handle that level of self-denial. If they are unable to resist the siren call of the vast buffet of tempting juicy x86 software, this little lappie may run hot, singe their thighs, and demolish its non-removable 6400mAh battery.
And for its very significant £1,258 ($1,533), that does not sound so appealing to us.
This is a pro-grade bit of kit, but compare this to the lower-spec, Snapdragon 7C based Acer Aspire 1 A114-61, which was about £300 ($365) when it was new, and is now about half that. Today the Chromebook Spin 513 is very close in spec. ®