Are you ready to go all-in, head-first, on a laptop? ASUS's Zenbook Pro 16X asks for that commitment
'Creator' machine is lovely, but seems unsuited to life on the periphery
Desktop Tourism ASUS's Zenbook Pro 16X OLED (UX7602) is a sleek beast of a laptop that invites you to take it head-on and go all-in – an offer that should give you pause before accepting.
There's nothing significantly wrong with the machine. I found it speedy, pretty, slick, and pleasing to use.
But in attempting to suit a niche audience – creators of digital media – the laptop asks buyers to accept its … unique qualities.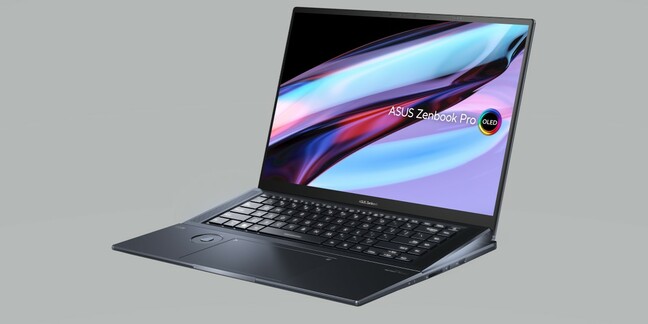 ASUS ZenBook Pro 16Z – Click to enlarge
The most visible of those is the ASUS Dial – a circular touchpad with a button in the middle that can be customized to drive apps' menus. ASUS's intention is to have it serve as a shortcut to functions in commonly used content creation apps. The Dial can also be used for chores like changing speaker volumes.

ASUS ZenBook Pro 16Z Dial and touchpad – Click to enlarge
The Dial is set to the left of the large touchpad, which is fine – if you're using the laptop without an external monitor and input devices. But if you set the laptop aside to take advantage of a larger screen, the Dial will not be within easy reach.
Another unique feature of the machine is the Active Aerodynamic System Ultra (AAS Ultra) – a fancy name for the keyboard that tilts upwards to put it at a more comfortable angle for typing. It's a nod to creative types demanding quality input devices.

The AAS in all its glory – Click to enlarge
The keyboard is decent enough, but the choice of half-height arrow keys is an error. Also, while I understand that gaming machines have set a trend for all sorts of LED-delivered amusement, the lights under this one feel like pointless and battery-draining bling.
I couldn't imagine spending all of my working hours with this laptop's keyboard. And it will be wasted if you plug the machine into peripherals.
I also found AAS disconcerting because when the keyboard rises it exposes a cavity and small shiny struts which did not look robust. I felt sure that dust, grit, and unspeakable cruft would inevitably collect beneath the AAS's posterior. It feels like a shortcut to planned obsolescence – not a significant enhancement.
With its two most distinct physical features – the Dial and AAS – requiring head-on attention, I wondered how many creators would be willing to spend their days working on a laptop, or in a (to my mind) weird arrangement with an external monitor behind the built-in-screen.
Those who are happy working in the abovementioned modes will enjoy the Zenbook. Battery life ticked past five hours, so meaningful mobile work is certainly possible.
The 14-core Alder Lake Core i7-12700H CPU at 2.3GHz is speedy. It screamed through the same nasty job we've given all other machines in our Desktop Tourism series: downscaling a 300-second 4K video to HD using the open source Handbrake video conversion tool. The ASUS knocked that job off in a minute and 28 seconds. The same job took 10:24 in an Ubuntu virtual machine running in VMware Workstation.
The video-centric CineBench benchmarking tool scored it at 12,355 – a very respectable result helped along by the presence of Nvidia's GeForce RTX 3060 GPU.
The machine's 3840x2000 screen is wonderfully vivid at close to full brightness. When dimmed it was less enjoyable, as darker colors became indistinct.
I found the speakers genuinely startling – in a good way – as music emerged with clarity I've not experienced in a portable machine.
The touchpad is sub-standard. It's just not responsive enough, lacking a crisp click or haptic pop.
The power brick is also a disappointment. It's too big and the accompanying IEC cable is an ugly, bulky, relic. The machine can charge on USB-C – so ASUS should ship it with a sleek charger to match the rest of the machine's looks. At the same time, that would emphasize that, while it's a hefty 2.4kg, it is genuinely portable.
At least the mix of USB-C, USB-A, Thunderbolt and HDMI ports is just right.
This is the kind of laptop that you'll either dismiss in a few minutes as too heavy and gimmicky or decide you must have after using it for an hour. Its ~$3,000 price tag tipped me well and truly to the former conclusion, but I also couldn't shake the feeling that ASUS knows the creator market reasonably well. The machine's quirks could well find an audience – and perhaps even ardent fans. ®