Winnie the Pooh slasher flick mysteriously cancelled in Hong Kong
Do you Xi what I Xi?
A slasher flick featuring Winnie the Pooh and other characters from A.A. Milne's beloved stories has mysteriously had its Hong Kong debut cancelled. Probably forever.
The flick in question is named Winnie the Pooh: Blood and Honey. The film's IMDB page offers the following summary of its plot:
After Christopher Robin abandons them for college, Pooh and Piglet embark on a bloody rampage as they search for a new source of food.
The flick does not look classy, if this trailer is a fair representation. Reviews suggest the entire work does not improve on the short.
The film has nonetheless generated $4.1 million in ticket sales.
But its producers won't have the chance to add to that total in Hong Kong or Macau, as the distributor of the film in those territories, VII Pillars Entertainment, posted to Facebook on Tuesday: "It is with great regret to announce the scheduled release of Winnie-The-Pooh: Blood and Honey in Hong Kong and Macau on March 23 has been cancelled.
"We are incredibly sorry for the disappointment and inconvenience."
No reason for the cancellation was offered, but it's not hard to guess one: China has for years censored Winnie the Pooh after netizens noted the character's resemblance to president Xi Jinping and used Disney's depiction of the fictional bear to mock the leader.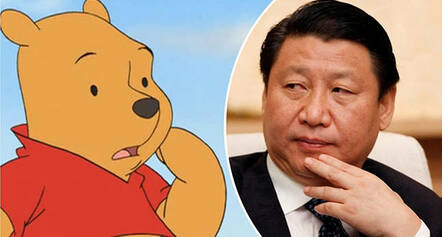 Pooh and Xi – Click to enlarge
Xi – who presides over a regime that rounds up some citizens in labor camps and conducts mass sterilization campaigns of the Uyghur people – is presumably not keen to be associated with an anthropomorphic bear and pig that go on a homicidal rampage.
Even a far milder Pooh film, 2018's Christopher Robin, was censored in China – so delicate is the subject of A.A. Milne's creation in the Middle Kingdom.
China can also be very sensitive about criticism of its own content: local netizens objected vigorously to a New York Times review of sci-fi flick Wandering Earth 2. ®