Fresh models of Framework modular laptops in the works
What to expect? 16 inch model, a desktop case, and both Intel and AMD variants
Modular repairable laptops vendor Framework has lifted the covers off models that are coming later this year – including one with a 16 inch display.
Framework has announced several new devices and options for its range of upgradeable laptops, some of which significantly increase potential audience for the computers. New models include an AMD-powered variant of its existing 13 inch machine, as well as a new, larger, more expandable version with a 16 inch screen and a range of input options. There's also a desktop case to reuse your old motherboard if you choose to upgrade to a faster model.
We've mentioned Framework a couple of times before. Early in summer last year, it started offering 12th gen Intel CPUs, and as we pointed out then, unlike almost every other laptop vendor out there, this was good news for existing owners: if you're hungry for the additional performance, you could just buy a new bare motherboard and upgrade your machine, keeping all your other components. And once you've done this, you could use the now-spare mobo to upgrade an old laptop, even a classic one.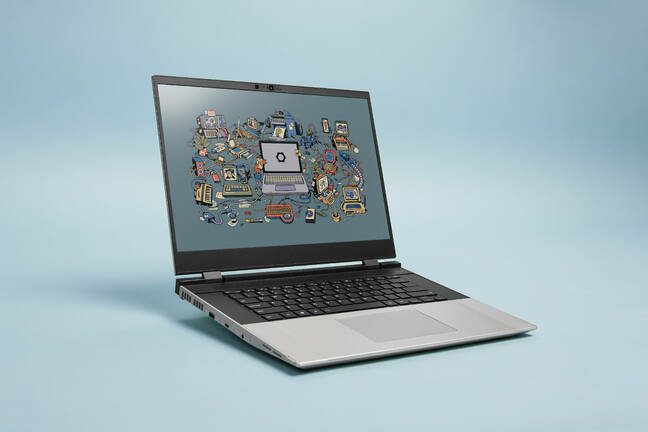 A render of the Framework 16 showing a centrally located keyboard and trackpad
One reader commented to our first story that until they could get an AMD Ryzen and wired Ethernet, it was a "dog-and-pony show". Well, AMD enthusiasts may want to take a second look, because now, Framework does indeed offer AMD-powered options with a Ryzen 7040: according to AMD's announcement that includes eight Zen 4 cores and RDNA 3 graphics.
Although Framework already offered plans for a 3D-print-it-yourself housing for its motherboards, now it has worked with case-building specialists Cooler Master to offer an off-the-peg case.
Along with the new AMD model, there are also new Intel 13th gen motherboard offerings, with a choice of three processors, which Framework describes as:
i5-1340P (up to 4.6GHz, 4+8 cores)
i7-1360P (up to 5.0GHz, 4+8 cores)
i7-1370P (up to 5.2GHz, 6+8 cores)
The wired Ethernet expansion card is also now available, for $/£39. Other new options for the forthcoming models include a larger battery, matte screen, and screen bezels in a choice of colours.
For the Reg FOSS desk, though, the most interesting new development is a new chassis: the Framework 16. The announcement doesn't offer full details yet, but the possibilities sound intriguing. Inside the machine, there will be an expansion bay with a PCIe x8 interface, which will be able to take a choice of GPU modules, or other expansions, such as a storage expander that will take two nVME SSDs.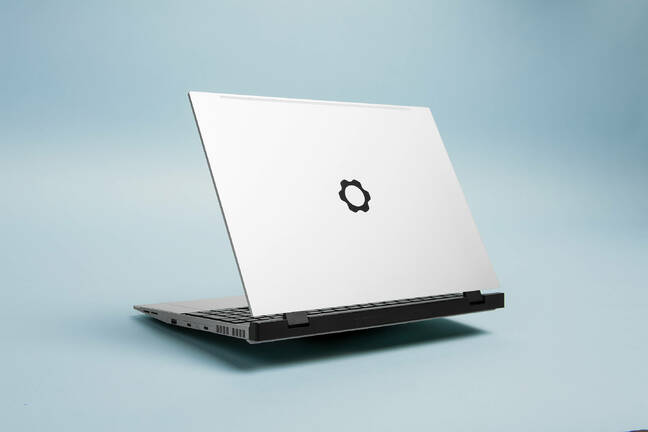 A render showing the rear of the Framework 16 with the basic configuration – note the absence of cooling vents.
Regarding input devices, the company says:
One of the key questions was: Numpad, or no numpad? After performing some market research, we found out there is almost exactly a 50/50 split between people who love and need numpads and people who hate them.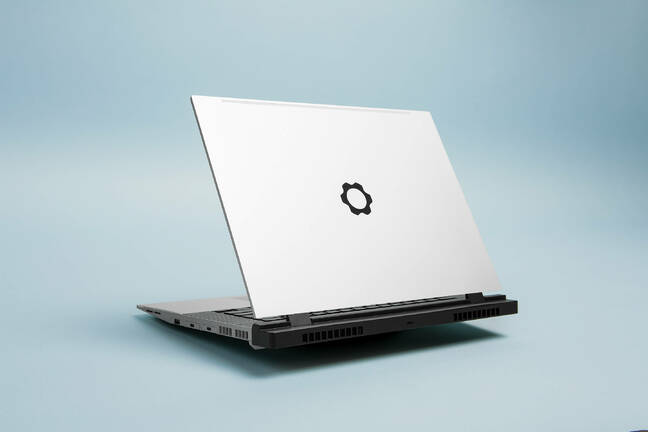 A render of the back of a Framework 16 with a GPU module, with vents and extending out behind the hinges
So the new chassis will offer hot-swappable input modules, allowing the user to choose just a QWERTY keyboard and central trackpad, or an offset keyboard and trackpad plus a numeric keypad. For the smaller keyboard module, there will be spacers to left and right, and these offer room for other potential devices, such as a slider control, or a small secondary screen. The modules will interface via Raspberry Pi 2040 chips running the third-party QMK firmware.
We cannot help but be reminded of the original Macintosh Portable, which offered the unique ability to rearrange its keyboard and trackball for both left and right handers. For this southpaw vulture, this is a critical weakness of the otherwise snazzy Asus Zenbook Pro Duo: its trackpad is on the right, rendering it well-nigh unusable for us.
We're not bothered about discrete GPUs in laptops, but a big machine with lots of expansion and space for different keyboard layouts sounds very interesting. Also sounding promising are uprated screen hinges and better speakers. Dampening our anticipation somewhat, company founder Nirav Patel offered some additional info in a discussion on Hacker News, confirming that the larger chassis' expansion bay will require a different motherboard from the 13 inch machines, and that the machine will be too thin for a keyboard with mechanical keyswitches.
Even so, these all seem like promising new directions to us. The machines are not cheap, but they aren't punitively expensive either, and because damaged components can be replaced, they will almost certainly last considerably longer than budget-priced laptops.
Orders for the new models are expected to open in (northern-hemisphere) Spring 2023, and shipments in "late 2023." ®