Ubuntu 23.04 'Lunar Lobster' beta is here in all its glitchy glory
That means next version of the most popular Linux distro is getting close
Ubuntu "Lunar Lobster" is the middle release between the 2022 and 2024 long-term support releases so this is when Canonical tries out some new stuff.
According to Canonical's release schedule, Lunar should appear on April 20. Perhaps that will give the developers time to flesh out some of the sections that just read "tbd" in its release notes.
This is a short-term release, which will be supported until January 2024, a few months before the next LTS is due. There will be another short-term release six months later so this is a chance for the developers to try out some new stuff without needing to worry about supporting it for years to come.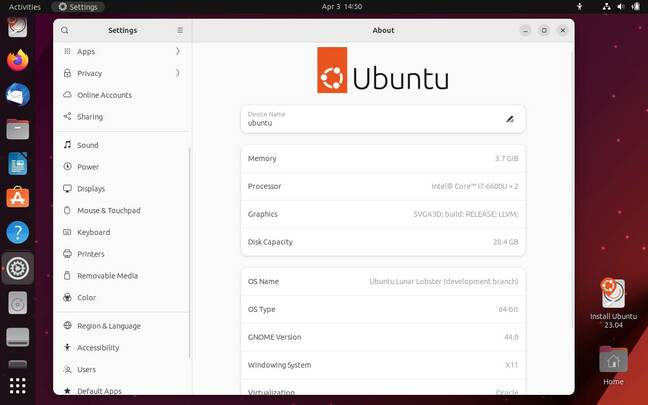 Ubuntu 23.04 with GNOME 44. Already quite usable on bare metal, but not so good in a VM
The beta version looks different from the very early stages. It boots happily under VirtualBox, and sets the VM's screen mode to a healthy 1280×800. That's already a significant change from almost all other distros.
As we said when comparing the remixes last year, all set the screen to 800×600, even though most installers don't fit into such a low resolution. For that test, we used 16GB virtual disks, but "Lunar" won't fit into that either: it demanded at least 18GB, and that seems to mean the binary 18,432MiB – creating an 18.00GB VM was still rejected. Finally, at 19GB, it deigned to try. We ticked the boxes for optional drivers and updates, and the installer froze, although the VM stayed responsive. Trying again and leaving those blank, installation started, but stopped at about 20 per cent and wouldn't budge.
So we gave it a try on bare metal on the ThinkPad X1 Carbon we looked at last month. Things went much more smoothly on this, but in the background, something was going wrong as the System Problem Detected pop-up kept reappearing, no matter how many times we closed the warning. The installer boots using X11, but once installed it defaults to Wayland.
This version has the latest kernel 6.2 and ran very smoothly on the X1 Carbon, with both display servers. Although off by default, fractional scaling works in both. Once you enable it, it is instantly available without a reboot.
Even during the installation stage, Lunar looks a little different. There's a new thinner font in the top panel, and the beta uses the new "Subiquity" installer, built with Google's Flutter GUI toolkit.
The default desktop is GNOME 44, which we already looked at in beta form, as well as its release candidate version. As usual, Ubuntu has applied its own custom Yaru theme, and its mild customizations to GNOME to make it a little friendlier hint at the old Unity look. These include Ubuntu Dock, its fork of the Dash to Dock extension; DING, or Desktop Icons Next Generation; and its AppIndicator extension, which continues to support the old status icons that the GNOME development team desperately want to banish forever. The trusty GEdit has gone, replaced by the new Text Editor that debuted in GNOME 42.
Also as usual, a few Snap packages are preinstalled, notably Firefox 111 and the Snap Store. All the other bundled apps are conventionally packaged, including the new LibreOffice 7.5.2, complete with colorful new icons – although Ubuntu's developers have tweaked them slightly. The sound server is Pipewire, as it was in 22.10.
The new version also includes systemd version 252, specifically version 252.5. Also under the hood are lots of refreshed server and developer components, including Ruby 3.1, cloudinit 23, Samba 4.17, and rclone 1.60. The latter is particularly useful as it lets Linux connect to and sync with several cloud storage services that don't offer Linux clients, such as Microsoft OneDrive, Google Drive, and about 40 others.
So far, some of the remixes have also published their beta release notes, including Budgie, Studio, and Xubuntu.
The Lunar release will also include the now-official Cinnamon remix and the return of Edubuntu. Another welcome return is the minimal "netboot" image, which is just 143MB in size and installs most of the OS off the internet. That disappeared after 18.04, leaving the the server image as the closest thing. ®