Cash App founder stabbed to death in San Francisco
Tributes paid to former Square CTO Bob Lee, 43
Tech exec Bob Lee has died after he was discovered stabbed in San Francisco in the early hours of Tuesday.
Lee, well regarded in Silicon Valley, was the chief product officer of cryptocurrency firm MobileCoin. He was previously CTO of digital payments giant Square, today known as Block, and founded Cash App, which is used by tens of millions of people to transfer funds and invest in markets.
According to SF police, a 43-year-old man was found with stab wounds around the 300 block of Main Street at 0230 PT on April 4. He died of his injuries after being taken to hospital. A homicide investigation is underway, we're told.
Though the US city's cops did not identify the victim, his friends and colleagues confirmed it was Lee who was fatally attacked.
"Our dear friend and colleague, Bob Lee passed away yesterday at the age of 43, survived by a loving family and collection of close friends and collaborators," the team at MobileCoin said, echoing the many tributes paid to the tech exec on social media today.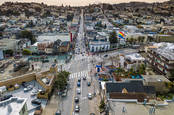 IT boss arrested over Cash App exec Bob Lee death
LATEST UPDATE
"Bob was a dynamo, a force of nature. Bob was the genuine article. He was made for the world that is being born right now, he was a child of dreams, and whatever he imagined, no matter how crazy, he made real.
"Bob was made for the new world, he was the quintessential creator, leader, and consummate hacker."
As well as his work at Square and startups, and investing in ventures such as SpaceX, Lee was also known for his early work on Android as a software engineer at Google.
As reported by NBC News, Lee and his father Robert had been living in Miami after moving to Florida in October from California. Bob previously lived in Mill Valley, north of San Francisco across the Golden Gate Bridge.
"Bobby worked harder than anyone and was the smartest person I have ever known," his dad wrote on Facebook. "He will be missed by all those that knew him."
Bobby worked harder than anyone and was the smartest person I have ever known
His death comes amid a growing perception that San Francisco's leaders are losing, or have lost entirely, a grip on crime in the city. The spot where officers, responding to a call, found Lee is known as Rincon Hill, not too far from the Salesforce Tower, Google's offices, and Mozilla's HQ, and is considered generally quiet and safe.
There have been 12 killings in SF since the start of the year, a step up from the ten homicides by this time in 2022, according to police stats. Such violent crime in SF is, in a way, an unusual matter: it has lower-than-average rates of violent misdeeds but suffers from high rates of theft, burglary, and other forms of property crime. The city's handling of investigations and prosecutions is complex enough to warrant a whole separate story.
In any case, Lee's slaying has prompted more outcry over what's seen as a rise in violence and criminal activity in the city. SF District Attorney Brooke Jenkins, responding to this anger, said: "I want to extend my sincerest condolences to Mr Lee's family members and loved ones for his loss.
"We do not tolerate these horrific acts of violence in San Francisco."
If you have any information about what happened, the cops ask that you call any time at 1-415-575-4444 or text TIP411 and begin the text message with SFPD. ®