Double BSD birthday bash beckons – or triple, if you count MidnightBSD 3.0
Both FreeBSD 13.2 and OpenBSD 7.3 are here
New point releases of both the general-purpose Linux rival FreeBSD and the security-focused, traditional and rather minimalist OpenBSD have landed.
FreeBSD 13.2 has arrived after a slightly longer release process than planned, which included a couple of additional release candidates, RC5 and RC6. Before you get too excited, though, this is only a point release, and while we've been testing it for a while at the new Vulture Towers outpost in the middle of the Irish Sea, FreeBSD 13.2 isn't dramatically different from the preceding version, which we looked at nearly a year ago.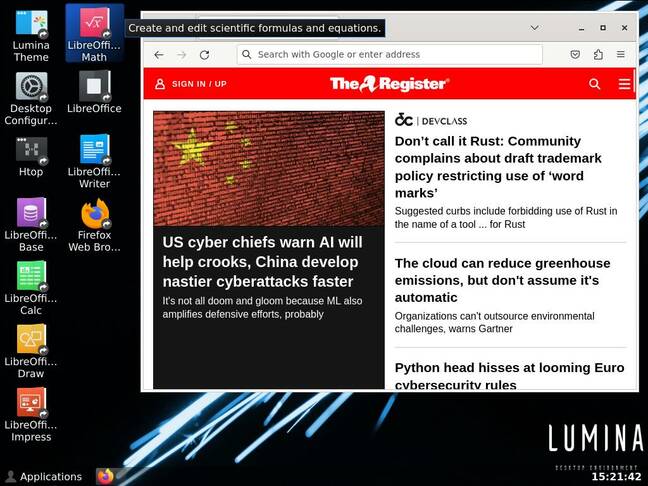 FreeBSD's own native desktop is called Lumina, but it's extremely basic and minimal. You'd be better off with Xfce
The improvements in this version are mainly under the hood, and the release notes have the full story. For 64-bit executables, Address Space Layout Randomization (ASLR) is now on by default, as it has been on macOS since 2009 and on Android since 2012. Even some of the other BSDs have been working on this for a few years.
The WireGuard VPN is now built into the kernel after the original implementation in FreeBSD 13.0 had a stormy reception then got dropped. FreeBSD's own hypervisor, bhyve, now supports more than 16 virtual CPUs within a VM. FreeBSD natively supports the ZFS filesystem, and this release includes version 2.1.9 of the upstream OpenZFS project, but it also still supports the traditional UFS, which also supports snapshots – now, even if you're running with journaled soft updates. The kernel now also natively supports the netlink protocol from Linux. It also has updated OpenSSH (9.2p1) and OpenSSL (1.1.1t) components.
We spun up a fresh VM and found it installed successfully first time. Once the bare text-mode system was running, getting a desktop was as simple as typing a few commands and adding a handful of lines to the main system init script. Now we've done it a few times, it's relatively easy – but still substantially harder than we feel that it ought to be in 2023. There is an optional script, desktop-installer, which walks you through installing a desktop environment, but the snag is that this pulls in a lot of components from places other than the standard repositories – which in turn means that the normal freebsd-update command is no longer enough to update your machine, and you'll need to use the menu-driven auto-admin command instead.
OpenBSD 7.3
Also new this week is the 54th release of OpenBSD, version 7.3. The changelog from the previous version, which we looked at last year, is extensive – we counted 508 lines. However, none of these look to us as exciting as the big-ticket changes in the last two releases, such as support for Apple Silicon Macs. Instead, there are smaller but still welcome changes: better power management, updated graphics drivers for recent AMD Ryzen and Radeon hardware, improved support for recent Apple laptops, and over a dozen tweaks to SMP handling.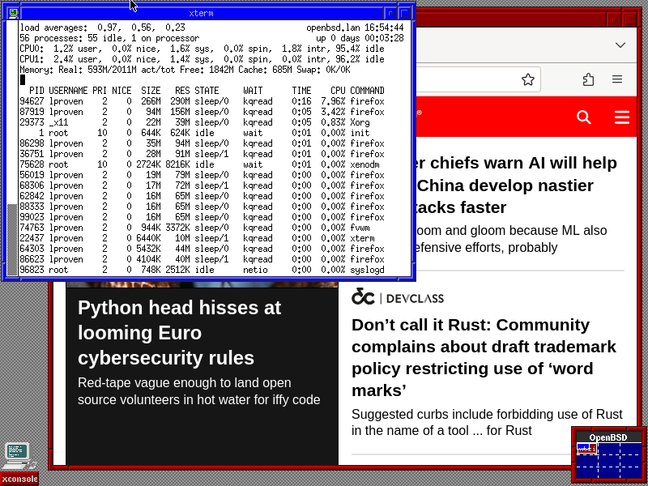 OpenBSD 7.3 is a bugfix and performance-tweak release without any big new features, but at least the installer leaves you with a graphical environment of some form
We found that the new version had some problems getting an IP address under VirtualBox, but after some tweaks to the network settings it installed happily and booted straight into the xenodm display manager, logging into which took us straight into a very retro Fvwm session (and not in fact Twm, as this vulture mistakenly said earlier).
OpenBSD is intentionally limited and somewhat restrictive. For instance, it dropped its Bluetooth stack altogether in 2014 and no version since 5.6 has supported the standard at all. So you might be able to install it on an Apple Silicon Mac mini, but you won't be able to use Apple's own wireless keyboards or pointing devices. Saying that, though, its small, clean codebase seems to be helping its developers with new platform support, and right now this is pretty much the only FOSS OS that supports the Qualcomm SC8280, the SoC inside the Lenovo Thinkpad X13s we looked at recently. We've been experimenting with pre-release OpenBSD snapshots on the machine, but we will try the release version as soon as we can and report back.
MidnightBSD 3.0
A week before these releases of two of the highest-profile BSDs, the MidnightBSD team released version 3.0.1, a bug-fix for version 3.0 which appeared in late March. We gave both these releases a quick try at the time.
MidnightBSD is a distribution of FreeBSD, originally forked from FreeBSD 6.1 but repeatedly updated since then.
From the product's description on its homepage – "developed with desktop users in mind" – we expected a live CD that booted to a graphical desktop and made it easy to install a complete graphical OS. This, however, is not the case. It boots into a text-mode environment and uses the standard FreeBSD installation program, which is, by the FreeBSD project's own admission, clunky.
In theory, if you manage to get past the installer, MidnightBSD's "first boot" tool will help to complete the installation, but despite multiple attempts in multiple VMs, we couldn't get that to run. As such, MidnightBSD is not really any easier than FreeBSD itself, but it's got less documentation, less online help, and it's based on now very dated components. As the release announcement says: "This release includes several larger enhancements imported from FreeBSD 12 stable." FreeBSD version 12 was released in December 2018.
There are other desktop-oriented FreeBSD distros out there, but so far, we haven't been very impressed by any of them. The best we saw were FuryBSD, now dead, and before that PC-BSD, which was later renamed TrueOS, then acquired by iXsystems, then killed off. We were thus hopeful for this new release of MidnightBSD – but we're sad to say that we can't find any reason to recommend it. ®