Samsung's Galaxy S23 Ultra is a worthy heir to the Note
And just about worth the pain of a cross-platform migration. Eventually
First Look I find adopting a new smartphone has become tedious and painful – especially when moving between iOS and Android. So it's a rare handset that makes me feel it's worth the ordeal of re-entering passwords, re-establishing virtual credit cards, ensuring 2FA apps are in order, and reacquiring keys for smart locks.
Samsung's Galaxy S23 Ultra has me tempted.
It's been years since I unboxed a handset and felt it catch my eye. The S23 Ultra did so quickly – it resembles a cross section of a fantasy sword's blade, with serious (but not threateningly sharp) edges, sharp charcoal gray tones, and a sturdy cross-section.
The machine is the successor, in all but name, to the Galaxy Note – the product Samsung pioneered as a halfway house between a tablet and a phone. At 163.4 x 78.1 x 8.9mm it's close to unwieldy in one hand, but compensating for that bulk is a 3088 x 1440, 6.8-inch Dynamic AMOLED display. That makes it worth getting a grip on because colors pop, video flows, and gaming action is smooth.
The octa-core processor can hit 3.3GHz, and the machine always felt fast in use. The CPU was also kind to the battery, which sipped just three percent of capacity per hour when using the GPS-intensive Strava exercise-tracking app – a task I usually find drains more power than almost any other.
I used Strava while cycling on a humid morning, during which the Galaxy was just a strip of lycra away from my sweaty skin. The phone emerged utterly unscathed.
Samsung's S-Pen is present, and is easier to grip than its predecessors, and nicely responsive. But I've never really found a use for it – while the S23 Ultra is large, it's not big enough to offer a canvas for meaningful amounts of handwriting. That makes the pen's qualities moot.
It doesn't help that Samsung keeps making the mistake of putting the pen's housing on the left of the phone. As a right-hander I tend to hold a handset in my left paw and operate it with my right. Putting the S-Pen in the left means it's hidden beneath the heel of the palm, making it hard to access without some contortions. This arrangement also means the pen is usually invisible – out of sight and mind.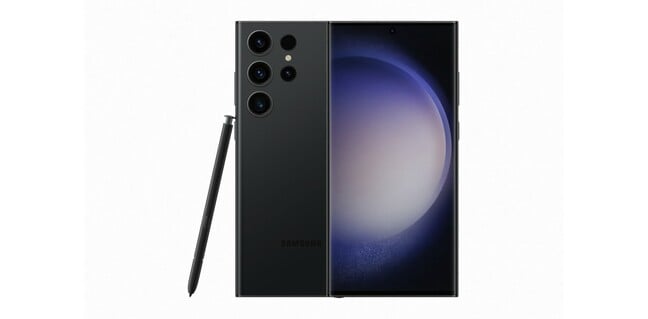 Galaxy S23 Ultra – Click to enlarge
I set the Ultra next to an iPhone 14 and ran the Otter real time transcription tool on both during the same speech. The Samsung machine slightly outpaced the Apple, and also appears to have a superior microphone as text output was more accurate.
The camera produced mixed results. I gave it the nasty job of shooting a panorama from a balcony with a curved handrail and it couldn't cope.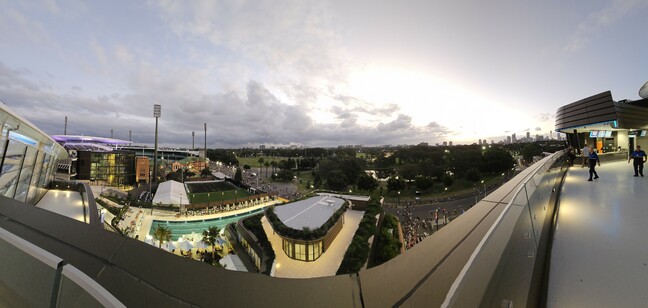 This fence confused the S23 when shooting a panorama. But the phone did well on the evening sky. Click to enlarge
It did better with an iron front fence in my neighborhood, picking out the texture of nearly a century's rust and reapplied layers of paint.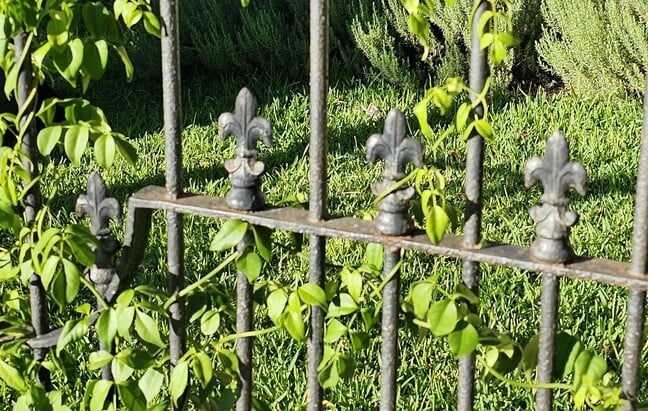 I think the camera did well on color and shading, and detail on the fence. However focusing on the grass seems an odd choice. Click to enlarge
The zoom is very impressive. Here it is inside a football stadium, shooting from one end to the other.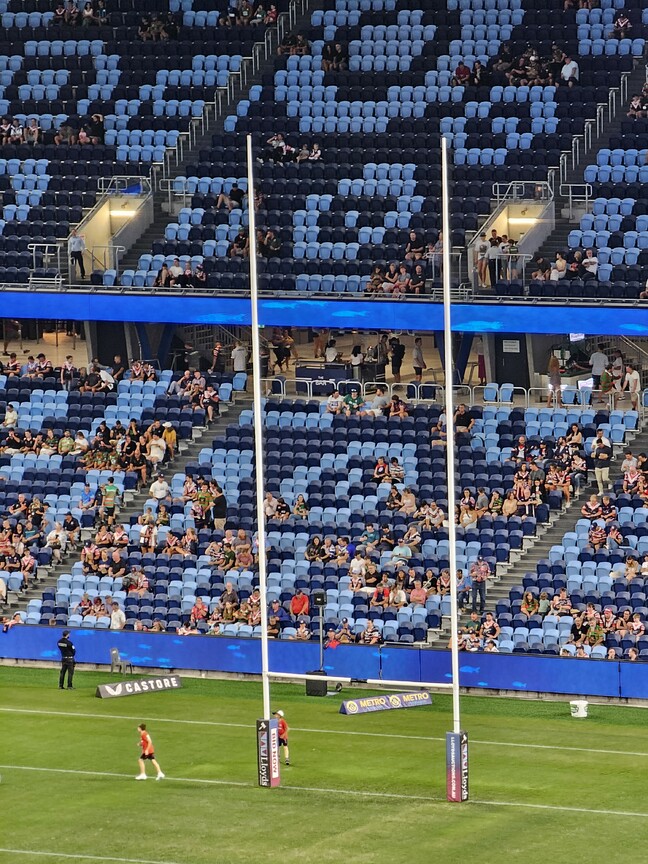 Galaxy S23 Ultra at its maximum 10x zoom, picking out stadium seats at a range of ~150 meters – Click to enlarge
I find that, where iOS fits the devices on which it runs like skin, Android feels more like clothing. The S23 Ultra retains that feeling because there are moments when you feel like you're in Google's world – not Samsung's – and get tossed between the two.
Overall, however, the S23 Ultra appears to offer everything one should expect from a premium handset in terms of amenity and performance. And it just looks great, too – a factor I found surprisingly alluring after years of anonymous rounded rectangles.
The one thing holding me back from adopting it is the $1,200 price tag (of $1,949 in my native Australia). That's a figure that exceeds the price of both my somewhat posh Italian bicycle and my work laptop. It's a big sum to carve out of a personal budget, in this or any other economy. Even on a plan, the device isn't cheap now that carriers are less generous with their handset subsidies.
Not helping matters at all is a recent advert in my local paper for Samsung's S21 at the same price as the Korean giant's latest midrange handset - a price that feels more than fair for a two-year-old device that won't be markedly worse than this year's S23. With the prospect of big savings if I wait, and the the prospect of migrating my mobile life being utterly loathsome, I'm therefore willing to hold off on the S23 Ultra.
For a while. I think. Possibly. ®
Bootnote: As it happens, I've just got my hands on Samsung's latest midrange: the A54. In a few weeks I'll compare it to the S23. ®