Microsoft enables booting physical PCs directly into cloud PCs
Running an OS from local storage is soooo last year
Microsoft has delivered a preview of tech that lets a physical PC boot into a virtual one, running in Azure, instead of running Windows from its local drive.
"Windows 365 Boot" – as the tech is creatively monikered – is suggested as "a great solution for shared devices, where logging in with a unique user identity can take you to your own personal and secure Cloud PC."
Microsoft is keen on shared devices accessing cloud PCs: it recently previewed an offering called "Windows 365 Frontline" that allows a single Windows license to be applied to three Cloud PCs. The Windows giant's thinking is that shift workers in frontline roles – think healthcare or call centers – will each have their very own cloud PC, and access it from a single shared device.
Windows 365 Boot means those shared PCs could boot straight into Windows 365 – thus the name.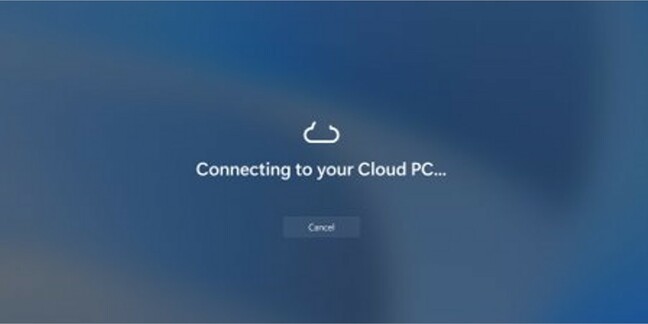 A PC using Windows 365 Boot booting into a cloud PC – Click to enlarge
To take Windows 365 Boot for a spin, you'll need to be in the Windows Insider program, have a Windows 11 machine to hand, Microsoft Intune Administrator rights, and a Windows 365 Cloud PC license.
Microsoft has shared the lengthy procedure required to get Windows 365 Boot working.
The company has not, however, shared when the tech will become generally available.
Nor has it explained why frontline workers – or anyone else for that matter – should prefer cloud PCs, given that Windows allows creation of multiple user accounts, each with its own level of access to resources. Microsoft has long suggested that arrangement offers all the isolation and security anybody could possibly want.
But Redmond typically gets paid just once when users work on physical PCs. Cloud PC users send cash monthly. Microsoft's even argued that cloud PCs are more sustainable than physical PCs – because the machine one uses to access the cloud doesn't need to be as powerful as a physical PC. That argument came after Microsoft suggested benchmarks aren't applicable to cloud PCs – because clouds will just get the job done and deliver a great experience, trust us.
We'd like to, but when The Register tested Windows 365 cloud PCs, we were underwhelmed. We had more or less the same reaction when testing AWS Workspaces a few years ago.
It seems there's a lot of blue sky thinking going on in all those clouds.
Microsoft's cloud PC technology was shown off as the biz this week holds its annual Build developer conference. More details on that event here at DevClass. ®