The bonkers water-cooled shoe PC, hexagonal pink workstations, and IKEA-style cases of Computex 2023
We crawled the gadget halls to save you the hassle
Computex Last week's Computex in Taipei did not disappoint when it came to weird and wonderful gadgetry.
The show celebrated its status as the PC industry's biggest annual event by showcasing many exotic custom builds.
Taiwanese hardware company Cooler Master let the literal and metaphorical shoe drop with the Nike-like Sneaker X. This one's an actual product the company plans to sell from July for the lace-knotting price of $5,999.
That stack of cash buys you a 25.6x12x25.6-inch chassis made of plastic, aluminum and steel – plus fans, power supply, CPU cooler, cable and ARGB controller.
The PC is a variant of a creation by modder JMDF – a winner from Cooler Master's 2020 Case Mod World Series. It supports Mini-ITX motherboard form factors, SFX PSUs and an AIO cooler, and fits a 360mm radiator at the bottom of the case.
Cooler Master's Sneaker X:
Cooler Master also showed off a PC that looked like a shark, plus the Cooler X – a fairly innocuous looking tower from the outside with a less subtle giant liquid-cooling loop to keep temps low on its AMD Ryzen 9 5950X 16-core processor and Radeon RX 6800 XT GPU. The Cooler X is available end of June for around $7,000.
Another Taiwanese builder, BIOSTAR, had both its racing themed V8 Overdrive and fantasy battle-themed Valkyrie case mods on display, both carrying Intel chips and somewhat named after their motherboards – the Z790 VALKYRIE and the RACING Z690GTA.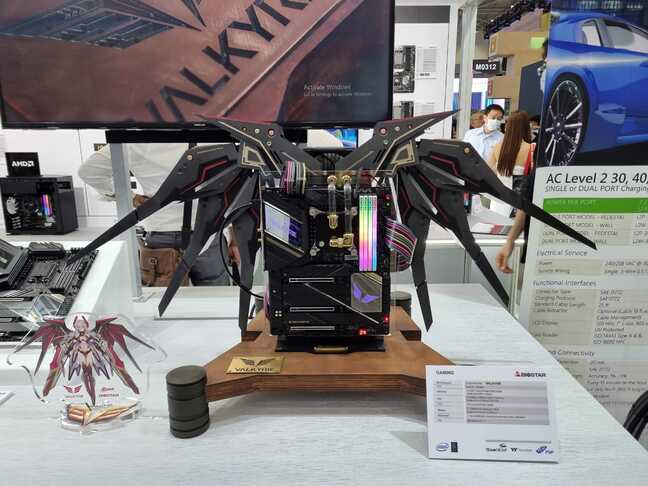 BIOSTAR VALKYRIE PC – Click to enlarge
BIOSTAR's V8 Overdrive:
Thermaltake was on hand and difficult to miss, thanks to its wide selection of products. The cooling specialist unveiled both its Centralized Thermal Efficiency (CTE) Series and a series of cases in a range of matcha green colors for the conference.
In the CTE series, the motherboard is rotated 90 degrees to get more airflow, and rearranges some of the components to make cooling more efficient. It also allows for PCIe slots to rotate as needed. The CTE C700 TG ARGB features liquid cooling and fans and was on display.
While the Tower 200 Mini Chassis – a mini-ITX case that fits a 4090 GPU – exhibited a compact minimalism, the winner of Thermaltake's 2022 case modding championship – an unrecognizable spinning version of the Tower 500 – was doing the absolute opposite.
The winner of that competition and designer of the case, called "The Moon," also have designed the Shark X system on display at Cool Master.
The absolute legend of a modder, Thailand's Krittanon Kidprasert, detailed his process and inspiration (spoiler alert: anime inspired) for The Moon in Thermaltake's community forum.
A selection of Thermaltake's PC mods:
A hexagonal pink Arm workstation
It's not every day you see a purple computer, a hexagonal computer, or an Arm workstation.
Korean builder XSLAB's V-raptor SQ nano is all of those things.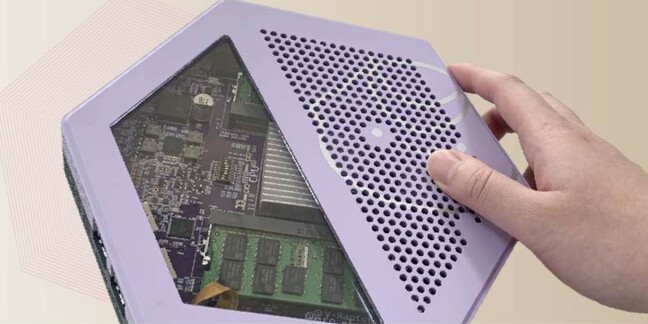 V-raptor SQ Nano Arm workstation – Click to enlarge
The machine packs a 24-core Cortex-53 Arm CPU at 1Ghz, 32GB of DDR4 memory, a 1Gbit/sec Ethernet port, and a small OLED display. It's just 33mm tall, and 196mm across, but sill fits four USB 3.0 ports.
Ubuntu server is pre-installed and the machine is intended as a test and dev machine for those dipping their toes into the world of Arm servers – or as a small server for home or educational use.
The machine's innards are identical to those packed into a rack-mount server – the V-Raptor SQ – which XSLAB says it's sold to Korean messaging giant Kakao. The server, however, boasts 32 of the boards found in the SQ nano.
Drive with your eyes
Japanese company Forum8 brought its driving simulators to the show, including one controlled by users' eyes.
The system uses Tobii Pro eye tracker to track eyes. Looking left or right took a virtual vehicle in the appropriate direction.
Another more physical simulator was also on display allowing for drivers to sit and explore cities, with the view of training drivers.
The software was updated to reflect the types of habits in each city, for example if a city had more pedestrians or was prone to random car doors flying open.
The Reg did attempt to go all Grand Theft Auto and mash some fellow motorists - with some success! - but speeds were trimmed enough to prevent most mischievous behavior.
Cloudy polyglot earbuds
Another item that caught the eye, or perhaps the ear, was a pair of "Transbuds" from Hong Kong maker Kigao.AI. The earbuds include a proprietary chip hidden in their USB-C adapter, which hooks into the API for Google's enterprise grade cloudy translation service and pipes real-time conversation translation into users' ears.
Kikago folk told The Register the Transbuds will soon be appearing on a crowdfunding platform and will need a monthly subscription for the live translation feature.
Classy glass housing to IKEA-style flatpack
Back to PCs for a bit, an outfit called InWin offered a flatpack case for the machines. It's a great solution for those that save their old cases but don't have a lot of space, as you can break them back down and store them when done. While IKEA comes to mind, these kits just look like a lot more fun than Swedish designed particle board – at least for the type of person that enjoys a good DIY project.
The iBuildiShare initiative brings full tower, mid tower and mini /micro tower designs in a range of colors. The POC Mini-ITX Tower has 0.8mm foldable SECC steel panels and weighs around 5kg.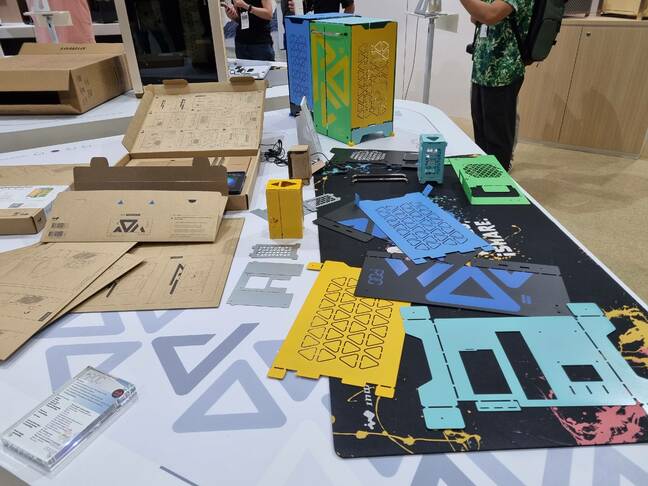 InWin POC Mini-ITX_Tower – Click to enlarge
On your bike
A couple of vendors emphasized cycling. Acer offered its "Ekinekt" – a not-very stable bicycle desk that turns pedal power into watts that emerge from USB ports to power your laptop or other devices. The Reg took it for a quick spin and immediately worried it's not a productivity-enhancer. Thermaltake decided a fairly standard motorized standing desk is actually an e-cycling desk designed for participants in cycling metaverses.
The show also featured more mechanical keyboards than seemed sensible, video surveillance kit in all shapes and sizes – including one unit that can run for months on a quartet of AA batteries while snapping a frame every few seconds.
When we last attended Computex in 2017, the show was full of USB battery packs – a seeming symptom of unsatisfactory smartphone battery life. Those devices had largely disappeared in 2023, as had cheap Apple Watch alternatives. The Bluetooth speaker market has bust.
One thing that persisted from Computex days of yore were the booth girls. Heels and short skirts, strategic fake tattoos and heavy eyeliner – the girls were everywhere except Computex marketing material.
Computex did not ban the use of show girls, but rather "encouraged manufacturers to adopt more creative marketing methods." Some may have got the memo, but many clearly did not.
After three days of walking the halls, racing to keynotes and navigating Taipei, a favorite did emerge for at least one Reg hack: the multitude of gaming chairs on display.
This is The Reg, signing off for Computex 2023. ®