Fresh details on the flash that sits inside Mars Perseverance Rover
Plus space-hardened SSDs planned for lunar DC ... if and when that happens
SSD maker Phison recently shared fresh details on the flash that sits inside the Mars Perseverance rover with Reg sister title Blocks & Files, and also talked up the 8TB SSD planned for use in Lonestar Data Holdings' audacious lunar datacenter mission.
The manufacturer of the 8GB industrial-grade PSS4A111-8G uSSD that sits inside Perseverance said the rover uses the flash unit for its photo processing, storage and transmission system. The stakes are high: space is not a break-and-fix environment. If the SSD fails, then the rover's imaging system stops working.
Perseverance, along with its Ingenuity helicopter, was launched from Earth on July 30th, 2020, and touched down on Mars' Jezero crater on February 18, 2021, five and a half months later.
It has been working away since, trundling across the Martian landscape, taking and sending photos from its collection of 23 cameras, more than 166,000 as at February 18, 2023, back to Earth.
Phison also revealed fresh details about the system that weren't previously known. It said Perseverance has a Data Storage Unit (DSU) controlled by an Intel Atom E3845 (BayTrail) processor, a 64-bit x86 four-core CPU clocked at 1.91 GHz, with 8GB of DRAM, fitted to a Compulab COMEX IE38 motherboard. The Atom CPU runs the reception, compression, and sometimes stitching together, of images from the Rover's cameras. A Phison 8GB industrial-grade PSS4A111-8G uSSD, in BGA form with a SATA interface, built like the Atom to withstand harsh environments, is fitted to the motherboard, along with a 480GB NVMe SSD. Phison's drive uses MLC (2bits/cell) NAND.
The power and performance for the 8GB uSSD are modest:
Sequential Read - 300 MBps
Sequential Write - 100 MBps
Random Read - 20,000 IOPS
Random Write - 21,000 IOPS
Active Power - 830 mW
Low Power Mode - 12 mW
Terabytes Written (TBW) - 3
Temperature Range: -40°C to 85°C
There are 23 cameras on the Perseverance rover, with the data from each individual camera being fed in raw format to the DSU through an Ethernet link, processed, compressed and combined by the COMEX-IE38 module, stored on the 480GB SSD and then retrieved to be transmitted to NASA engineers back on Earth. The Phison SSD is being used as a buffer for audio and picture/video data.
Phison SSDs are involved in other space missions. Skycorp provided intelligent Space Systems Interface (iSSI) experiment avionics on the International Space Station. This kit features a 4TB Phison E18 SSD connected to a Microchip Technologies Polarfire System on a Chip (SoC).
An 8TB M.2 2280 format Phison drive is being used in Lonestar Data Holdings' lunar datacenter mission, again through Skycorp, which provided space qualified hardware including a multi-core RISC-V in space server architecture system, which contains Phison's space-certified 8TB SSD. The drive had to gain NASA Technology Readiness Level 6 (TRL-6) certification, passing a series of tests, including deep cryogenic temperatures and vacuum conditions found on the moon and withstanding the stresses of being launched by, and riding in, the SpaceX Falcon 9 rocket.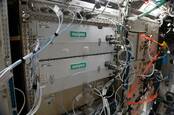 Edgy: HPE's first message from the International Space Station to Microsoft's Azure? 'hello world'
READ MORE
Lonestar, the US startup proposing to site datacenters on Earth's Moon, is hoping to use the kit as part of its provision of off-site archival and edge processing services – that's if it all comes off as planned.
If all goes well, it'll be good news for the vendor, as the kit will have reached TRL-9 when the Moon mission is underway, meaning it will be system-proven and ready to sell into other government and commercial programs.
Of course, Phison is not the first SSD maker to send the tech into space. Kioxia's SSDs provided flash storage for HPE Edgeline and HPE ProLiant servers in a test environment to conduct scientific experiments aboard the International Space Station as part of HPE's Spaceborne Computer-2 computer project.
Kioxia said at the time that SSD style flash storage performs better in space than HDDs. "These flash-based SSDs are better-suited than traditional hard disk drive storage to withstand the power, performance and reliability requirements of outer space, as they have no moving parts, are less susceptible to electromagnetic waves and provide faster performance." ®