Micron, Applied Materials make big investments in India
Not building fabs, but fabulous for India – as is GE coming to build jet engines
Chipmaker Micron Technology has announced it will build an assembly and test facility in India, and fellow chip shop Applied Materials will build an engineering center in the nation – announcements that considerably bolster the subcontinent's ambition to become a silicon superpower.
Micron's plan calls for construction of a facility featuring 500,000 square feet of cleanroom space to start later this year and commence operations in late 2024. A second phase of the project will add a similarly sized facility expected to commence construction "towards the second half of the decade."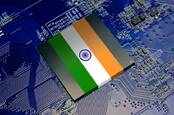 India to revisit hardware incentives after struggling to move manufacturers out of China
READ MORE
Both facilities will work on DRAM and NAND products to serve local and international buyers and "focus on transforming wafers into ball grid array (BGA) integrated circuit packages, memory modules and solid-state drives" according to Micron's canned statement. The chipmaker expects to spend $825 million on the project.
Applied Materials' plan is priced at $400 million and will see the org create a campus at which staff will work alongside "leading global and domestic suppliers, and top research and academic institutions" to develop new chipmaking kit.
News of the two investments came on the same day as Indian prime minister Narendra Modi made a state visit to Washington, and rated a mention in the joint statement issued by the US and Indian governments.
So did a deal that will see General Electric and Hindustan Aeronautics Limited team to manufacture jet engines for India's Limited Light Combat Aircraft Mk 2. India has also agreed to acquire US-made drones from General Atomics. And as if the day were not full enough, the two nations also sealed a pact to collaborate on human spaceflight.
These deals are very significant. India is already a major source of semiconductor design talent and aspires to become a major manufacturing destination. But the nation's investment attraction scheme has up until now largely failed to excite big name chipmakers.
Micron's decision is therefore a win. That the silicon slinger has said its plant will serve local and overseas clients is dead on message for India, which has pitched itself as a market of sufficient size to justify local investments as well as a sensible alternative to nations with spotty records of contributing to recent supply chain chaos and/or exposure to geopolitical risk.
Not actually naming China but … well … China.
The deals also matter in the geopolitical scheme of things. India is more of a friend to Russia than most nations. Deeper defense and aerospace ties with the US won't mean India alters its long-term strategy of maintaining good relations with Moscow – but will upset few in Washington. ®