Iceotope cooks plan for liquid-cooled servers at the edge
Self-contained immersion-cooled chassis aimed at telcos, 5G RAN deployments with HPE, Intel help
The edge probably isn't the first place you'd expect to see liquid and immersion cooling tech, but Iceotope aims to put them there anyway.
Of course, the edge itself is still a bit of a nebulous category. At one extreme are the full-fat server chassis deployed in temperature-controlled branch offices. At the other, you'll find non-standard industrial systems with passive heat sinks, weather sealing and hardened silicon designed to cope with extreme temperature swings.
The latter environments are particularly tricky because warehouses and factory floors don't always have the necessary air handling and environmental controls necessary to prevent dust, humidity, or high ambient temperatures from mucking up systems.
The KUL RAN system, developed by in collaboration with HPE and Intel, appears to fall somewhere in the middle of these two extremes. The system features a 19-inch short-depth rack mount form factor based around HPE's ProLiant DL110 platform Intel's 4th-gen Xeon Scalable processor family. From that standpoint, it's a pretty run-of-the-mill edge server but sets it apart is how Iceotope is going about cooling the system.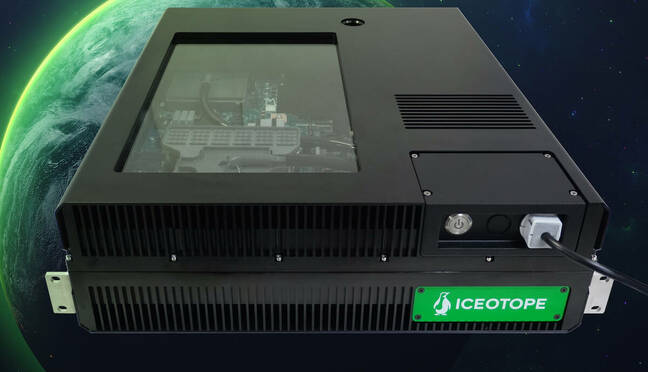 Iceotope's self-contained liquid-cooled chassis targets telecom edge and 5G RAN deployments
Typically, liquid-cooled systems require a fair bit of supporting infrastructure, including pumps, coolant distribution units, rack manifolds to distribute the coolant, and heat exchangers. However, Iceotope claims that with its KUL RAN platform, all of this functionality is self-contained within the system.
Rather than fans and heat pipes or big, heavy passive heat sinks, the KUL RAN system is sealed off from the outside atmosphere and employs Iceotope's rack-mount immersion cooling tech to keep temps in check. We took a look at this in person at Supercomputing 22.
It works by submerging the motherboard in a few millimeters of non-conductive coolant, which is then pumped to hot spots, like the CPU, GPU, memory, and other components. Heat from the system is captured and passed to a heat exchanger at the back of the system.
Iceotope's KUL RAN systems are targeted at telco edge with 5G radio access network (RAN) applications in mind for the platform. This would also explain the use of Intel's 4th-gen Xeons. Intel launched 5G and telco-specific SKUs of its chips earlier this year, while we're still waiting for AMD's edge-focused Epyc Siena parts to hit the market later this year.
Intel has also been investing heavily in next-gen cooling technologies, particularly around improving the efficiency of immersion-cooled systems.
Last week, the company revealed it'd been awarded a $1.7 million contract under the Department of Energy's COOLERCHIPS initiative to develop novel heat sink designs for phase change immersion-cooled systems capable of taming 2KW components.
We'll note the 4th-gen Xeons found in Iceotope's KUL RAN platform aren't nearly so demanding with peak TDPs maxing out at around 350W. ®