'Joan Is Awful' Black Mirror episode rebounds on Netflix
Streaming biz terms and conditions searches jump 1,524%
Searches for "Netflix terms and conditions" skyrocketed 1,524 percent after the streaming platform debuted Black Mirror season six.
The new season's first episode, "Joan Is Awful," serves up a cautionary tale of accepting online terms and conditions without actually reading them. Major data privacy violations, among other horrible things, ensue.
Charlie Brooker's award-winning series debuted on June 16 with a blistering portrayal of its home streaming service Netflix, called "Streamberry," with a lookalike logo, color scheme, and trademark "ta-dum" intro sound. 
In episode one, title character Joan finds her life turned into a TV show because she signed Streamberry's terms and conditions without reading the fine print. In doing so, she gave the streaming service permission to use her likeness and her life for CGI content. 
Just 80 hours after the show's release, Google searches for "Netflix terms and conditions" spiked 596 percent worldwide, according to data spotted by Casino Alpha. The trend continued, and by June 24 the same search reached a five-year-high, increasing 1,524 percent.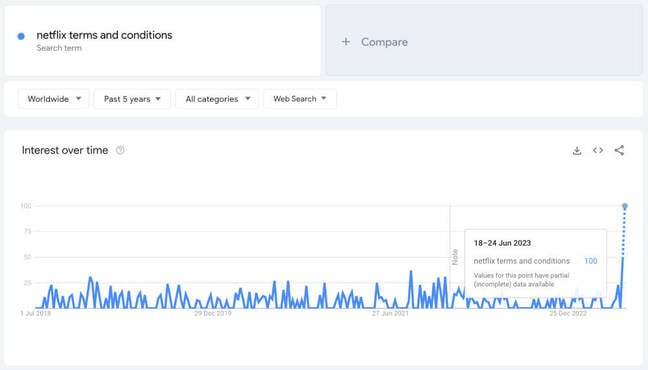 Be careful what you promote - Click to enlarge
"It is clear that despite today's awareness of data privacy concerns being higher than ever, it is so easy to forget that terms and conditions are, in fact, a contract," its CEO Tudor Turiceanu said in a statement. "Companies know that, realistically, very few will sit there and read the T&Cs carefully, though clearly, as the data we analyzed shows, many became more aware of them following Black Mirror's first episode."
Despite being skewered by the series, Netflix joined in on the fun, and shortly after "Joan In Awful" debuted, the streaming giant launched its own Streamberry site with a "You Are Awful" virtual experience. It asks visitors to upload a photo of themselves, consent to their image being used for marketing purposes, and agreeing to the You Are Awful terms of use and privacy statement [PDF].
The terms allow Netflix to collect and use a ton of personal data including identifiers and geolocation, as well as "audio, electronic, visual, thermal, olfactory or similar information (such as photos, audio, or videos)." 
This info could end up on "out of home digital and billboard media and fly posters as a part of the Experience," and it may be disclosed to third-parties. It continues:
By interacting with this Experience, you grant the Netflix entity that provides you with this Experience, its affiliates and respective successors and assigns and anyone authorized by any of them (collectively, "Netflix"), the irrevocable, perpetual, worldwide, non-exclusive right to record, depict, and/or portray you and use, and grant to others the right, but not the obligation, to record, depict, and/or portray you and use, your actual or simulated likeness, name, photograph, voice, actions, etc. in connection with the development, production, distribution, exploitation, advertising, promotion and publicity of this Experience, in all media, now known and later devised, and all languages, formats, versions, and forms related to such Experience without compensation to you or any other individual, unless prohibited by law.
Sounds eerily similar to what Joan unwittingly agreed to with Stremberry. 
For the record: Netflix's terms of service do not authorize the company to create content based on its viewers.
And while we can't confirm or deny any TV shows in the works about anyone foolish enough to sign up for the You Are Awful experience, some UK fans did see their images on billboards promoting the new season.
In other words: lesson clearly not learned. ®