Linux 6.4 debuts after literally unremarkable development push
Latest cut of the kernel gets RISC-ier, moves towards Wi-Fi 7, ejects PCMCIA cards
Version 6.4 of the Linux kernel has debuted, after an exemplary development push.
Penguin emperor Linus Torvalds on Sunday announced the release without making any comment at all on the state of the kernel, or the efforts that led to the release of this version. Indeed, he had little to say about the progress of version 6.4: The Register reads his weekly missive in which he discusses progress, points out development bottlenecks, and debates whether extra release candidates might be needed.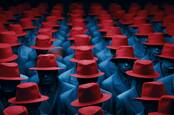 Red Hat strikes a crushing blow against RHEL downstreams
READ MORE
But he had nothing to say across the seven release candidates issued for version 6.4, and launched the new kernel by writing: "Hmm. Final week of 6.4 is done, and we've mainly got some netfilter fixes, some mm reverts, and a few tracing updates."
Among the notable items in this cut of the kernel are:
Support for hibernation of RISC-V CPUs, a likely presage to such silicon powering laptop computers;
The beginnings of support for Apple's M2 processors;
The beginning of the end for CardBus and PCMCIA support;
More Compute Express Link support, bringing Linux closer to supporting the memory-pooling standard;
Further support for the made-in-China LoongArch CPU architecture.
Another significant inclusion is plenty of code to support AMD's Pensando data processing units – suggesting the Linux kernel is edging towards full support of the accelerators that are beloved by clouds but now making their way into mainstream use.
Wi-Fi 7 was the subject of plenty of additions, too, because who doesn't love faster Wi-Fi?
Torvalds has, per usual, opened the merge window for version 6.5 of the kernel.
"Most of the stuff in my mailbox the last week has been about upcoming things for 6.5, and I already have 15 pull requests pending," he wrote, adding "I appreciate all you proactive people."
Torvalds will be happy if work on version 6.5 is as unremarkable as it was on this version. He generally prefers pull requests to land early, and for seven release candidates between full releases.
Work on Linux 6.4 spanned Easter and several holidays, but still landed on time. Many developers contributing to version 6.5 may well have time off planned across the northern summer, but Torvalds is yet to flag any likely delays or diversions from his preferred release schedule. ®