Attorney sues Microsoft for $1.75M, claiming his email has been useless since May
Alleges he's still locked out and at risk of losing his licenses over missing comms
A New Jersey attorney is suing Microsoft for $1.75 million, claiming it didn't fix a verification issue that has cut him off from his paid work email, and therefore from communications with judges and clients, crippling his ability to deal with his caseload and leaving him at risk of making ethical violations.
In the complaint [PDF] – first filed in New York state but later moved to the Southern District of New York – David M Schlachter asks for $750,000 in damages and $1 million in punitive damages. He alleges that he lost access to his Microsoft business email account in May, but that the software giant failed to extricate him from a verification loop that was preventing him from getting into his account, which he says he pays for via a monthly subscription.
The problem started, according to the attorney's complaint, when he tried to log in on May 10, and the system asked him for his "2 step verification."
Schlachter describes being caught in an "error code 500121" loop and provides a screenshot in the complaint.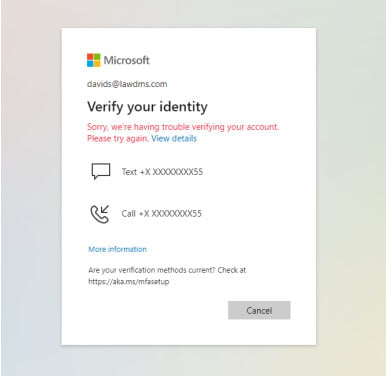 According to the complaint, he has a customer service line but no ability to email tech support. He alleges he waited on hold for three hours before receiving help from a customer support specialist. "After 30 minutes of talking to the specialist and answering questions the CS person told him that this was a 'business account' and he would have to contact the business technical service team."
He goes on to claim that that same evening, he texted customer support and received the business technical support line, receiving a case number on May 12. Schlachter claims that after this point, he was unable to reach anyone on the customer support line for four days. "He would wait on hold for 3 to 5 hours at a time (this is not an exaggeration) and the line would then go dead." On May 15, he alleges he was given another case number and promised a call back "at 12 noon" but "no one called him."
He claims to have called again twice each day for the next five days. "Every time he called, the support person told him he could not be transferred to either a supervisor or the engineer working on his matter. They are working on it and it will be resolve[d] soon – to paraphrase."
He goes on to allege: "The tech support person also called him on his alternative number, his office line, and verified when he picked up." Although they texted him "verification codes," the problem wasn't solved.
The complaint was moved to Southern District of New York late last week and the filing claims that "this matter remains unresolved."
Among other things, Schlachter alleges he "has had no access to NJ eCourts because the online system requests email verification to that account"; can't "pay loans because the online portal system for the loan payments is linked to that account"; is "not receiving any communication from Federal Bankruptcy Courts, and he has open cases", and can't communicate with "Judges, clerks, adversaries, colleagues, clients, United States Trustees" who have the address.
The attorney explained in the complaint:
Mr Schlachter cannot run [h]is law office blind. He is now possibly facing such issues as clients leaving the office, ethics violations being brought against him for not responding to communications, missing filing deadlines, and the like.
Claiming he's losing business and at risk of having ethical and professional licenses withdrawn, he accuses Microsoft of both breach of contract and "tortious business dealings" for "wantonly delaying a the simple remedy of aiding one single email access." Trial lawyer Michael Lieberman of Fox Rothschild is representing [PDF] Microsoft. We have asked the company for comment. ®