Fire-resistant drones promise to help rescuers in a hot spot
NASA space suits provide inspiration to Swiss and Brit boffins
Drones built to withstand extreme temperatures have passed initial testing in an effort to reduce risks to rescuers in fire emergencies.
A joint project between Imperial College London and Empa – the material science unit of Swiss Federal Laboratories – has shown a remotely controlled flyer is capable of enduring the temperatures of a gas flame, simulating the conditions of a forest fire or building-based disaster.
The research team, led by material scientist Shanyu Zhao and head of laboratory Wim Malfait, showed that by wrapping a drone in a heat-proof suit made of materials used in space, it gained the endurance necessary to survey dangerous fire situations before fire crews put their lives at risk.
Anyone in any doubt about what happens when a regular drone gets too close to a fire can watch this informative video on YouTube.
The joint research team picked polyimide plastic aerogel as the main insulating material, coating the whole drone – including rotors – in fire-resistant material (see pictures). Aerogels are air-filled polymers used by NASA, for example, in the insulation of space suits. The researchers reinforced the effect by adding polyimide, silica, and glass fibers to the structure.
"Laboratory analyses have shown that this comparatively fire-resistant material is particularly well suited for use in drones," Zhao said.
Following a test in Switzerland's Dübendorf flight arena, the Empa team took the kit to the Andelfingen training center, used by the fire department of the Canton of Zurich's building insurance. The experimental drone – dubbed FireDrone – was then tested in the facility's gas fire, and showed it was able to fly through the flames without damage.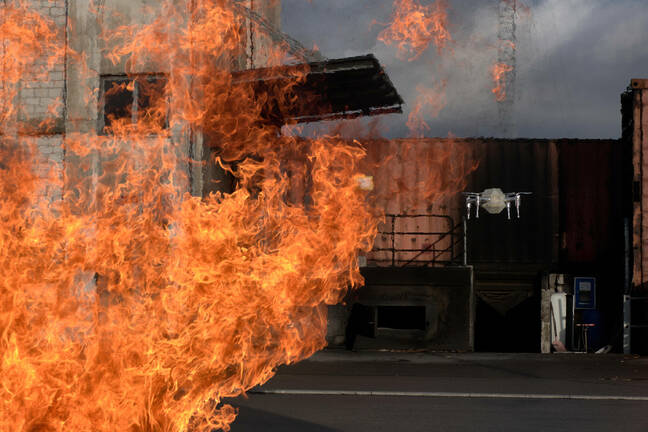 The FireDrone demonstrates its capabilities at the test site of the Andelfingen Training Center of the Canton of Zurich. Image copyright: Empa
The team said the system would also work for extremely cold temperatures in Arctic regions or for exploring glaciers. "The use of drones is often limited by environmental factors such as extreme temperatures," said Mirko Kovac, director of Imperial College's Department of Aeronautics and Empa's Materials and Technology Center of Robotics. "With the FireDrone, we are showing a way to significantly expand the future range of applications for drones in extreme environments."
Drone enthusiast professor Kovac is not just hoping to help people in burning buildings. He is also interested in using remotely controlled flyers to build things. Last year he published a paper suggesting flying robots could help answer the challenge of building structures in remote locations or hard-to-reach spots. In the test environment, the drones have built proof-of-concept prints – including a 2.05m high cylinder made up of 72 layers from a polyurethane-based foam. Another structure the drones printed is an 18cm high cylinder made up of 28 layers based on a cement-like material.
The professor is no neophyte when it comes to drone research. He was instrumental in getting funding for a £1.25 million ($1.59 million) lab for testing drones that can swim and carry 3D printers – no really – built at Imperial College London's South Kensington campus. ®