Huawei claims it's ready to ship entire 5.5G networks – whatever they are – in 2024
Nobody else is using that nomenclature for planned updates to 5G
Huawei has claimed it will offer everything a carrier needs to run a 5.5G network next year. Which sounds great – even if 5.5G is a little mysterious.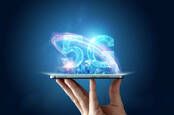 If you think 5G is overhyped, wait till you meet 5.5G
READ MORE
Huawei announced its future products at the Shanghai incarnation of Mobile World Congress on Thursday.
The Chinese firm's director and president of ICT Products & Solutions, Yang Chaobin, proclaimed Huawei intends for its launch "to mark the beginning of the 5.5G era for the ICT industry."
But as The Register has previously reported, 5.5G is a contested label.
The 3GPP, which oversees development of 5G and other standards, is yet to formally declare 5.5G is a thing. It is, however, continuing to evolve 5G and is currently steering work on Release 18 – which it has styled "5G-Advanced." It includes some significant changes, such as the ability to offer 10Gbit/sec connections – if carriers can use 800MHz of spectrum. Release 18 will also require mmWave frequencies.
Huawei appears to be referring to Release 18 as 5.5G, for reasons that aren't entirely clear.
Yang sprinkled a little hype dust on his announcement – claiming that Huawei has "been working on applying AI-native technologies to 5.5G core networks to continuously enhance network capabilities and availability."
Doing so will apparently "allow AI capabilities to be delivered to the very ends of networks." Righto. Just keep saying "AI" a lot and people will love it.
It's not uncommon for network equipment vendors to release product before standards are finalized. Kit-makers like Cisco that are big participants in standards groups have even made a virtue of it over the years, and buyers are often happy to pay up because they understand standards can be frozen long before they're officially signed off. Pre-standard kit doesn't usually represent undue risk.
Huawei, however, has been identified as a massive risk by many governments, which want its 5G and 4G kit disconnected and destroyed.
No matter what speeds 5.5G delivers, or the tricks it offers operators, Huawei surely knows plenty of buyers around the world won't waste a minute considering its 5.5G kit.
But it may play very well at home – if only as a symbol of Chinese innovation. And it may do well in the developing nations China courts as trade partners, with amazingly well-priced comms kit from Huawei and ZTE often a part of the Middle Kingdom's packages of nation-building assistance.
Huawei's announcement omits any mention of a client device ecosystem for 5.5G. Without that, 2024 will be a very quiet and dull start to the 5.5G era. ®