Meta's Oversight Board wants a prime minister banned from Facebook and Instagram
Overrules decision that Cambodian leader Hun Sen's threats of political violence were newsworthy
Meta's Oversight Board – the quasi-independent body the social networking giant established to review content moderation decisions – has recommended a national leader be banned from Facebook and Instagram for six months for promoting political violence. It has overridden a decision not to take down videos in which Cambodian prime minister Hun Sen threatened his political opponents.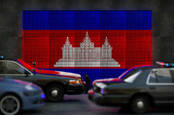 Cambodian authorities crack down on cyber slavery amid international pressure
READ MORE
Cambodia is a parliamentary constitutional monarchy in which democratic elections decide the government. But prime minister Hun Sen and his Cambodian People's Party (CPP), which have ruled Cambodia since 1998, have effectively outlawed all opposition parties – none of which won a seat in the nation's 2018 national elections. Opposition parties also did poorly in local elections held in 2022, which prompted allegations the CPP had interfered with electoral processes and led to protests, and arrests of opposition figures.
Hun Sen took exception to those allegations, and in January 2023 streamed a video on Meta's platforms in which he warned political opponents they should choose between the legal system or "a bat." The PM added "we will gather CPP people to protest and beat you up." You know, typical perfectly reasonable political rhetoric.
The video was reported as breaching Meta's Violence and Incitement Community Standard, which prohibits death threats and threats of injury.
A pair of Meta's content moderators reviewed the video and decided it did not violate the social networking giant's policies. The vid was also referred upwards to "policy and subject matter experts within Meta" who reversed that decision but "applied a newsworthiness allowance" that sees Meta keep violating content online if the public interest value outweighs the risk of it causing harm.
The Oversight Board has now decided that decision was wrong, and the video should be shoved in Meta's memory hole.
"The Board finds that Meta was wrong to apply a newsworthiness allowance in this case, as the harm caused by allowing the content on the platform outweighs the post's public interest value," states a decision by the body.
"Given Hun Sen's reach on social media, allowing this kind of expression on Facebook enables his threats to spread more broadly. It also results in Meta's platforms contributing to these harms by amplifying the threats and resulting intimidation," the Board added.
The Board also noted that Hun Sen has limited freedom of the press in Cambodia and suggested that should have been taken into account by Meta's mods.
"The Board is also concerned that a political leader's sustained campaign of harassment and intimidation against independent media and the political opposition can become a factor in a newsworthiness assessment that leads to violating content not being removed and the account avoiding penalties," its members wrote, adding: "Such behavior should not be rewarded."
The Board wants Meta to make some changes, including to "more heavily weigh press freedom when considering newsworthiness so that the allowance is not applied to government speech in situations where that government has made its own content more newsworthy by limiting free press."
It also recommended that Hun Sen's Facebook and Instagram accounts be suspended for six months, and called for Meta to change its newsworthiness allowance policy "to state that content that directly incites violence is not eligible for a newsworthiness allowance, subject to existing policy exceptions."
The Board also called for Meta to:
Update its review prioritization systems to ensure that content from heads of state and senior members of government that potentially violated the Violence and Incitement policy is consistently prioritized for immediate human review.
Implement product and/or operational guideline changes that allow more accurate review of long-form video (eg use of algorithms for predicting the timestamp of violation, ensuring proportional review time with length of the video, allowing videos to run 1.5 times or 2 times faster).
Publicly reveal the extent of the action and the reasoning behind its decision for the case of prime minister Hun Sen, and in all account-level actions against heads of state and senior members of government.
The Board's decisions aren't binding on Meta. And they probably arrive too late to improve things in Cambodia, where the main opposition party has been disqualified from standing in a national election due on July 23.
Hun Sen has reportedly quit Facebook and said he may block the service in Cambodia. ®