Quirky QWERTY killed a password in Paris
Quelle tragédie – techie had to visit the city of lights twice to sort this one out
On Call Hard-coded into The Register's week is that each Friday morning you'll find a new instalment of On Call, our reader contributed tales of tech support troubles.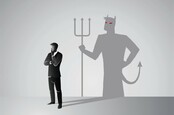 Techie wasn't being paid, until he taught HR a lesson
READ MORE
As this is such an instalment, meet a reader we shall Regomize as "Reynold" who once worked for a small Luxembourg-based company that refurbished laboratory equipment and then resold it.
One of Reynold's customers was a Paris-based research institute that bought some kit and accompanying software that would only run on a specific Dell computer. The software was also peculiar in that it had a hard-coded password.
And we all know how dangerous they can be!
Reynold drew the short straw and drove to Paris to install the rig and train users. After a few days the client agreed everything worked, and everyone was happy.
Then a few weeks later, they weren't happy. "The client called because they were unable to log in into the management software anymore."
Reynold remoted into the machine, but was unable to find a fix.
The client was sufficiently important that Reynold had to go to Paris – again.
"It took me about five seconds to realize that the client had changed the QWERTY keyboard that I installed for a French AZERTY keyboard."
A what? In French, a language that uses many áccènts (these are for effect), typists are more efficient with an AZERTY keyboard than a QWERTY configuration. The AZERTY layout is therefore found in France, Belgium, and other French-speaking nations.
But the software Reynold installed was unaware of this French connection.
"The password was deeply hard coded in the software, linked to the actual keys and not to the letters of the password," Reynold explained. "After inviting the client to either revert to using a QWERTY keyboard, or type 'pqsszord' instead of 'password,' everything worked again, and it was au revoir time."
Have cultural quirks ever caused you tech troubles? If so, click here to send an email to On Call and we may feature your story on some future Vendredi. ®