H-1B fraud consultancies grow, with application abuse openly discussed online
How do you solve a problem like a visa? How do you catch a fraud and bring it down?
In depth H-1B visa fraud is rampant and growing, and the US Citizenship and Immigration Service (USCIS) has yet to demonstrate that it can deal with the situation.
"The H-1B program applies to employers seeking to hire nonimmigrant aliens as workers in specialty occupations or as fashion models of distinguished merit and ability," the US Department of Labor explains. "A specialty occupation is one that requires the application of a body of highly specialized knowledge and the attainment of at least a bachelor's degree or its equivalent."
Technology companies rely on the program to bring foreign workers into America, ostensibly to fill positions for which US-based workers cannot be found. The firms that sponsor and import H-1B workers may also appreciate being able to hire people at below-market wages as well as the barriers that make it difficult for H-1B workers to change jobs or unionize. That said, the visa is attractive to foreign techies as it gives them a route to eventual permanent residency and citizenship, if they choose to go down that road.
Most importantly, over the past two years at least, interest in the program has outpaced Uncle Sam's ability to police it.
USCIS acknowledged the problem in late April when it published data on H-1B applications for FY 2024. For the H-1B program, which is capped at 65,000 people annually, plus 20,000 for those with advanced degrees, there were 780,884 applications for FY 2024 (received between March 1, 2023, and March 17), which is up from 483,927 for FY 2023.
What's more, in FY 2024, there were 408,891 registrations for beneficiaries with multiple eligible registrations, up from 165,180 in FY 2023.
Would-be workers are not supposed to register multiple times and the USCIS has interpreted these figures to suggest there's been a surge in fraud.
"The large number of eligible registrations for beneficiaries with multiple eligible registrations – much larger than in previous years – has raised serious concerns that some may have tried to gain an unfair advantage by working together to submit multiple registrations on behalf of the same beneficiary," the agency said at the time, adding that it had undertaken an undisclosed number of fraud investigations and was referring cases for criminal enforcement.
A member of the Indian community in the US who asked not to be identified contacted The Register to confirm that H1-B fraud is on the rise. He said he sees members of his community involved in deceptive practices and is concerned because abuse harms those who play by the rules.
"Applicants like us are genuinely employed through a US employer and we've registered for the lottery only once through one employer," he said. "Because of multiple registrations, we are affected by this."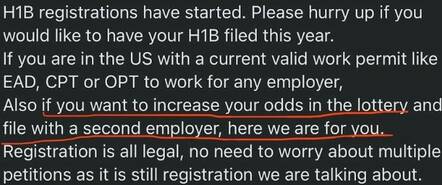 Above and below: Screenshots of visa discussion group messages provided by our source, cropped to exclude personal information, talking about gaming the H-1B lottery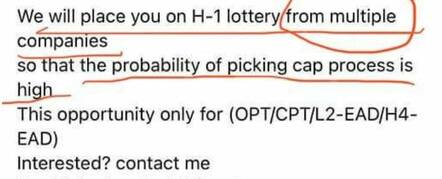 Our source provided us with a list of 25 companies in various US states that he claimed were abusing the lottery system as well as screenshots of H-1B discussions in public and private Facebook groups where both legitimate and unlawful approaches get discussed.

>
An ad by a consultant offering to help applicants increase their chances of scoring in the H-1B lottery
"The multiple registration scam has clearly indicated that there are two kinds of culprits running this fraud," our source explained. "The first group involves employers filing multiple coordinated registrations for the same employee, and the second group consists of employees (considered beneficiaries) approaching numerous companies to submit H-1B registrations on their behalf."
"In the former case, once the registration selections are announced, these companies strategize which company will file the H-1B for each resource. In the latter case, the individual beneficiary decides which company will file their petition."
Our source said these consultancy companies are largely run by Indian-born CEOs.
"These consultancies provide dubious offer letters in the name of 'in-house' projects, conduct no technical interviews to evaluate the candidate's proficiency for the role they're hiring, and even collect H-1B petition filing fees along with an additional commission from the candidate," he said.
Much of the fraud that happens in India, where these consultancies have small offices or agents to collect fees and help potential workers navigate the process, is invisible to USCIS. "How would USCIS trace back the H-1B petition fees that a consultancy pays them here, while in the background, the beneficiary has paid the consultancy's subsidiary or agent in India?" he said.
Our source said that these consultancies sometimes help "catfish" interviews – using one person in place of another – when attempting to land a client or project for beneficiaries. "If the beneficiary is under-skilled, the consultancy would arrange temporary paid support from Indian resources to provide appropriate help through a Zoom or video call," our source said.
Then there are cases where a hired H-1B worker isn't performing any work because there's no client project. Because the worker needs to appear to be employed, our source said, a payroll is set up. "This arrangement may involve either fake employment or the candidate themselves providing the funds to the employer, which is paid back as salary," our source said.
Our source said H-1B abuse is a huge and growing problem. "Everyone within our community knows this," he said, "and everyone within our community participates in this because it's an easy way out … because we're all on a clock. If we lose our job, we're supposed to leave the country within 60 days unless we find another job. So the consultancy is a very easy option. It's a very easy option to get into."
The Register asked USCIS to comment on our source's account of the current situation. A USCIS spokesperson said, "we've previously released a statement on this issue," and pointed to the agency's April post mentioned above.
We also asked whether USCIS had filed any lawsuits against consultancies abusing the H-1B process since April 28th or since the start of the year. That question remains unanswered.
The last time a company was added to the US Department of Labor's H-1B Willful Violator List of Employers, updated June 1, 2023, was in May, 2022. Three companies have been added to the H-1B Debarred/Disqualified List of Employers this year: Virtulytix, Inc, Packet One, LLC, and Macks USA, Inc.
At the beginning of June, Compete America, a trade group supported by Amazon, Apple, Cisco, Google, Microsoft and others, as well as other industry groups, wrote a letter urging the Biden administration to reform H-1B in order to reduce fraud.
"While some of [the increase in H1-B registrations] is due to legitimate demand, it is inescapable that the numbers have been overinflated by workers and employers trying to have as many 'bites at the apple' as possible," the letter says.
The trade groups argue that a failure to address the fraud before the FY 2025 H-1B process will lead to economic harm. They also express support for a USCIS proposal to raise the application fee from $10 to $215, an increase of more than 2,000 percent.
Our source said the only solution he could think of would be to require US companies to hire a majority of American workers – which would prevent consultancies that consist mainly of a pool of H-1B employees. "You should make sure your employee count is maybe around 70 to 80 percent actual American workers and then maybe like 20 percent you can accommodate with H-1B workers," he said. ®