Indian telecoms leaps from 2G, to 4G, to 6G – on a single day
Lays out ambition to set standards, as a $12 not-quite feature phone emerges to get millions connected
India yesterday laid out its ambitions to become a big 6G player – on the same day its biggest carrier tried to lift millions from 2G to 4G.
The 6G push was announced by the Department of Telecommunications, as it launched the Bharat 6G Alliance that aims to "support and energize Indian participation in standards development organizations" and enable the nation to emerge as "a leading global supplier of IP, products and solutions of affordable 5G and 6G and other future telecom solutions."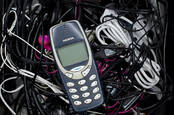 India calls for all mobile phones to include FM radios
READ MORE
The Alliance plans to ensure Indian telecoms kit and services find a receptive audience around the world, so that the subcontinent emerges "as a global leader in 6G technology." India's usual tech policy – manufacturing kit at home and using the scale of its domestic market to bootstrap exports – is again to the fore.
The Department's announcement cites chipmaker Micron's recent investment in India and quick land use approval as evidence India is ready to let tech manufacturers shine.
While India strikes out for whatever 6G brings, the nation's largest carrier, Jio, announced [PDF] that local smartphone manufacturer Karbonn will build it a ₹999 ($12.19) internet-enabled feature phone.
Jio has long built its own hardware and bundled it with very keenly priced connectivity deals – a combination that has seen it emerge since its 2015 launch as the mobile leader, with over 40 percent market share.
The feature phone – dubbed the "Jio Bharat" – is a 4G affair that will be sold on a plan that costs ₹123 per month ($1.50) including unlimited voice calls and 14GB data. The phone can also be used with India's Universal Payment Interface e-payments scheme, and comes bundled with video and music streaming services.
Users will enjoy the 3.5mm headphone socket, but the 4.5cm TFT screen looks a more challenging inclusion.
Jio has aimed the phone straight at the 250 million Indians it says currently use 2G feature phones.
The vid-streaming app included in the phone – Jio Cinema – recently claimed the world record for most simultaneous viewers of a video stream, when 32 million people tuned in to watch a cricket match. Once this phone reaches its intended market, Jio will need to scale even higher.
That challenge lies ahead: Jio will commence a beta program on Friday to test the phone with a million users. ®