Oh, great. Yet another tech billionaire thinks he can get microblogging right
Zuck's Instagram-adjacent Twitter clone to debut later this week
Twitter users dismayed by Elon Musk's chaotic leadership of the microblogging service will soon have an alternative – albeit one run by another tech billionaire. Meta's long-rumored Twitteresque effort is set to debut later this week.
Zuck's version will be tied to Instagram and dubbed Threads. The service already has a web page featuring a countdown clock that suggests it will debut at 14:00 on Thursday, UTC.
A Threads app has also appeared in the Apple App Store and on Google Play, where it is billed as "Instagram's text-based conversation app."
A screenshot bears the words "keep your username" – suggesting Threads may not be entirely interwoven with the image-heavy Instagram experience.
The App Store page offers links to supplemental privacy policy and terms documents that presumably explain how Meta will use data collected on Threads beyond the way it uses data collected on Instagram – but both links are dead at the time of writing.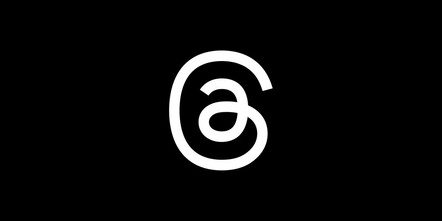 The Instagram Threads logo - Click to enlarge
The Play store and App Store both list Threads' access to data – and the app goes after plenty, including location, personal information that may include "Name, Email address, User IDs, Address, Phone number, Political or religious beliefs, Sexual orientation and Other info."
Financial information is also accessible, as are health and fitness data, messages, photos and videos, and even voice or sound recordings.
Also up for grabs are files and documents, calendar events, contacts, the app's behavior, web browsing history, and device IDs.
While Android and iOS allow users to restrict some sharing, Threads clearly follows Meta's surveillance capitalism playbook.
The app will arrive after Twitter's Tuesday announcement that only paying subscribers will be allowed to use its TweetDeck web client – a service that offers many features not found in its apps or web page, and which has been suggested as ideal for power users and/or social media professionals. That move came after Musk rate-limited users who don't subscribe.
Twitter has made other tools comparable to TweetDeck more expensive to use by sharply increasing the price charged for access to its APIs. All of which makes life for Twitter users less pleasant – and likely more expensive.
Instagram has more than two billion monthly active users – almost ten times the pre-Musk population of active Twitter users.
Threads could therefore quickly eclipse Twitter, leaving Musk with a bird in the hand and very little in the bush other than the massive debt he incurred to acquire the avian network. ®