Man who nearly killed physical media returns with $60,000 vinyl turntable
Ive got a bad feeling about this
There must have been a time when Apple thought that anything Sir Jony Ive touched turned to gold. Now luxury hi-fi manufacturer Linn will be hoping the same – with a £50,000 ($64,000) turntable dreamed up by Cupertino's former design whiz.
Ive is responsible for guiding the aesthetics behind some of Apple's most successful products, said to have had a hand in Newton models, the iPhone, the iPod, the iPad, the Watch and various iMacs. He worked for the company from 1992 to 2019, when he went solo to start a design agency called LoveFrom, which continues to count Apple as one of its foremost clients.
Linn Products was founded in Glasgow, Scotland, in 1973 and is best known for the Sondek LP12 turntable. A watershed moment in record player tech, the outward appearance of the LP12 has changed little in the intervening decades with some upgrades here or there to improve sound quality.
Linn survived the CD and digital music eras by being the first to sell studio master quality tracks for download over the internet, later forging a partnership with lossless audio platform TIDAL. It also makes speakers and network music players fit for audiophiles. These days vinyl is also experiencing a significant resurgence among music nerds who like nothing better than thumbing through liner notes on gatefold LPs while their records spin.
The company, which almost went bust in 2006, is certainly glad to still be around so is partial to an anniversary bash. When it turned 40 in 2013, Linn released a limited edition Sondek LP12 "encased in a beautiful wood plinth, crafted from the solid oak casks used to mature Highland Park's award winning whisky." There were 40 units available for £25,000 and each came with a £900 bottle of 40-year-old Highland Park whisky.
For its 50th anniversary, however, Linn has upped the luxury ante by collaborating with Ive's LoveFrom on another LP12 remix – the Sondek LP12-50, which starts from £50,000 (how's that for an Apple tax?) with only 250 units made. In the US, it'll set you back $60k, and in the EU it starts at €59,500.
Linn says of the record player:
Sondek LP12-50 produces the best vinyl playback performance Linn has ever achieved, alongside the immediately recognisable and iconic design language of Sir Jony Ive and his team at LoveFrom, applied in key visual and tactile interfaces.
The sonic improvement comes by way of Linn's all-new Bedrok™ plinth technology; formed of orthogonal layers of beech placed under extreme pressure to create an entirely new, solid and massive material. The consequent ultra-dense wood has negligible resonance and offers a superior isolating housing for the turntable's mechanism.
LoveFrom has applied their design expertise to the new, precision-machined power/speed control button and hinges – providing delightful and precise interaction with the turntable. Further aesthetic refinements to the classic Sondek LP12 form have been made with deep respect for the quality and integrity of the product.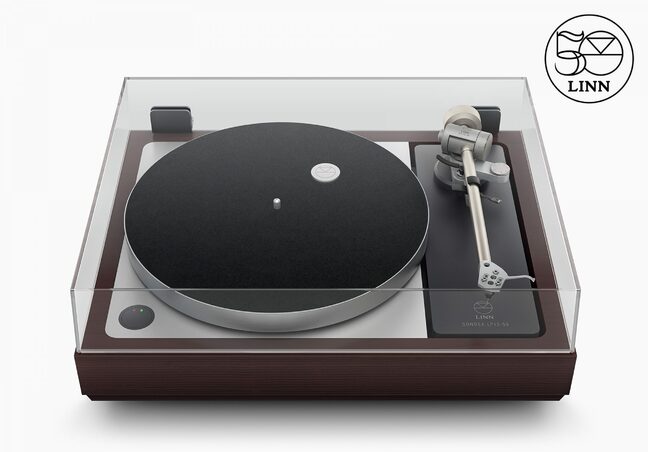 Linn Sondek LP12-50
While The Register has no doubt there are 250 well-heeled audiophiles and Ive appreciators out there who would leap at the chance to own this admittedly handsome piece of kit, the fact the turntable costs the same as a higher-end car sticks in our throat.
Here is this vulture's rather more modest home office setup complete with groovy beanbag. [Don't flame us, that turntable's dust is mild in the VentBlockers scheme of things. – Ed*]
Our manual Pro-Jekt Elemental turntable with Cambridge Audio amplifier and preamp shouldn't total more than £500, but Linn kit often costs multiple thousands even without Ive's golden touch. Still, it is kind of nice that someone who has contributed so much to the near-death of physical media has come full circle in this way.
He told Fast Company: "When it's such a broadly recognized and respected icon, and elements of the design are familiar, it doesn't necessarily mean they're optimal. Particularly when you have products that do assume that status of becoming iconic, and have that sort of cultural resonance, it's easy to assume that they are beyond improvement. And this is a particularly challenging design problem to respectfully evaluate the product."
Speaking of overpriced and old-fashioned technology, Japanese outfit Balmuda is attempting to reinvent the toaster with... The Toaster, which actually steams your bread, apparently to lock in moisture while crisping the outside to perfection.
The Toaster boasts a Sandwich Bread Mode, Artisan Bread Mode, Pizza Mode, Pastry Mode and Oven Mode, and will look great next to that second air fryer your other half browbeat you into thinking you needed.
How much? $299, and it doesn't even connect to the internet. ®