Musk sues law firm for overcharging Twitter when Twitter was suing Musk
X Corp boss invokes spirit of 'Cops arrest man for burning Burning Man man'
Elon Musk is suing the lawyers who were representing Twitter when it sued him for trying to abandon his $44 billion takeover offer in 2022. Now the bill is due for suing himself, Musk, as owner of the social media platform, says it is too damn high.
Make sense?
The erstwhile CEO of Twitter, which now goes by "X Corp," filed the complaint [PDF] in the Superior Court of California last week. His wish? To recoup a piece of the $90 million Twitter paid Wall Street law firm Wachtell, Lipton, Rosen & Katz (WLRK) before Musk took over and it became Twitter 2.0. The plaintiff in the suit is X Corp, the corporation, to be clear, but Musk has been de facto owner since the transaction went through taking the listed company private at $54.20 a share – or $44 billion – on October 27 2022.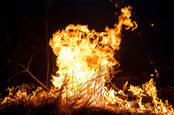 Cops cuff man for burning Burning Man man
READ MORE
X Corp alleges WLRK tried to "fundamentally alter its fee arrangement" in the "twilight of its representation of Twitter" in order to get what it characterizes as an "improper bonus payment in violation of its fiduciary and ethical obligations to its client."
It went on to claim:
Wachtell exploited a corporate client left unprotected by lame duck fiduciaries who had lost their motivation to act in Twitter's best interest pending its imminent sale to Elon Musk and his entities, X Holdings I, Inc. and X Holdings II, Inc.
X Corp alleges that Wachtell and its litigation department "were at the center of a spending spree" by Twitter's departing executives, whom the suit claims "ran up the tab at Twitter by, among other things, facilitating the improper payment of substantial gifts to preferred law firms like Wachtell on top of the firms' full hourly billings by designating tens of millions of dollars in handouts to the firms as 'success' or 'project' fees."
The complaint goes on to claim that even the board had been surprised at the alleged magnitude of the fees, citing an email from a former Twitter director to general counsel Sean Edgett: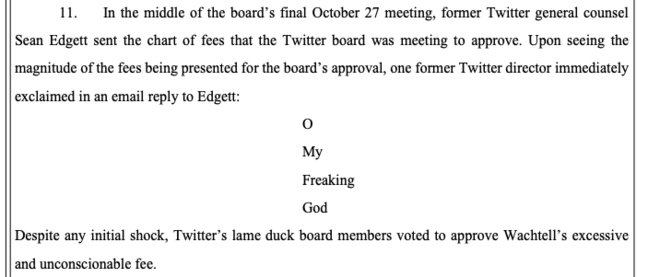 Click to enlarge
Edgett was one of the first execs to go in Musk's initial purge after taking over.
Musk first agreed to buy Twitter in April last year but then later tried to ditch the deal. By May of 2022 he was saying the company had misled investors and regulators over bot numbers and security. Founder Jack Dorsey had expressed some support for Musk's planned takeover, and in an SEC document filed that month Musk mentioned Dorsey by name, saying he was in talks with the former Twitter boss to add equity to the agreement.
WLTR's litigators came into the picture when it became clear in June that Musk was losing appetite to close the deal, with Twitter then suing in July to force his hand.
We have asked the New York law firm for comment, and asked Twitter for its own in the form of a haiku. The latter pooh-poohed our efforts.
The case is X Corp. v. Wachtell, Lipton, Rosen & Katz (CGC-23-607461). ®
PS: Yes, Elon really did challenge Facebook's Mark Zuckerberg to a schlong-measuring contest. Nothing to do with Meta launching Twitter-rival Threads and getting tens of millions of signups within hours, or not.