Intel pulls plug on mini-PC NUCs
How much NUC would a Pat G chuck if a Pat G could chuck NUC?
The sun is setting on Intel's Next Unit of Computing, the chipmaker's tiny PCs better known as NUCs by devotees.
"We have decided to stop direct investment in the Next Unit of Compute (NUC) Business and pivot our strategy to enable our ecosystem partners to continue NUC innovation and growth," Intel's spokepeople told The Register today.
"This decision will not impact the remainder of Intel's Client Computing Group (CCG) or Network and Edge Computing (NEX) businesses.
"Products that have not been officially launched will not be introduced by Intel. While we finalize plans for a smooth transition, customers can continue to order NUC products via our distribution network until September 1st, 2023, with anticipated last time ship of September 30, 2023. We will publish a formal Product Change Notification (PCN) for any impacted products including timelines for EOL process."
Products that have not been officially launched will not be introduced by Intel
The decision comes roughly three months after Intel revealed it would sell the division responsible for designing and planning out server-grade systems to Taiwanese factory giant MiTAC. It appears that this was only the beginning, and Intel now intends to divorce itself from other system designs to focus on developing and fabricating chips.
Arriving in 2013 (our original review is here) Intel's NUC micro-boxen crammed low-wattage laptop-level silicon into a tiny 4x4 inch chassis, with a couple of unpopulated SODIMM slots and room for an SSD or 2.5-inch SATA hard disk.
However in the decade since, Intel's NUCs have evolved to include larger, more powerful components optimized for gaming, edge, and IoT applications, often with unique motherboards and form factors.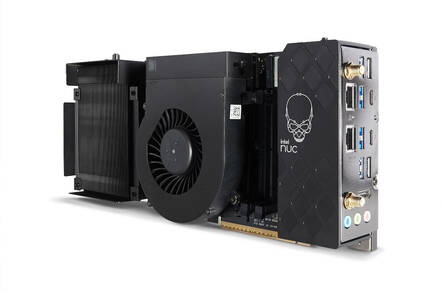 The NUC 13 Extreme compute module. Source: Intel ... Click to enlarge
Intel's top specced Raptor Canyon NUC, launched in November, featured a full-fat 13th-Gen Core processor that was packed onto a motherboard that more closely resembled a PCIe card, including a connector on the bottom for breaking out to external I/O, accelerators, or GPUs.
Intel was still pumping out NUCs at least until this spring with its Arena Canyon NUCs reported in March.
While the diminutive PCs could be used as just that, personal computers, they've also become popular as low-power compute clusters. For instance, back in 2018 Chick-fil-A detailed how it'd used NUCs as edge nodes in its restaurants. Meanwhile, vendors like Scale Computing offer NUCs preloaded with their hyperconverged infrastructure platform, again targeting edge environments where power may be limited or latency a factor.
Intel says it's working with its partners and customers to ensure a "smooth transition and fulfillment of all current commitments," including ongoing support for existing NUC products.
So far, we've only spotted one end-of-life notice [PDF], published Monday, for the company's older NUC 11 Compute Element, which launched in 2021. It remains to be seen how long Intel will continue to support its more recent NUC systems.
The x86 titan's decision to walk away shouldn't come as a surprise. We even predicted the division might get the chop last fall after Intel CEO Pat Gelsinger committed to cutting $10 billion in annual spending. Combine that with the fact that the corporation shipped 10 million NUC units over a decade, and the writing was on the wall.
And with fewer PCs being bought these days, Intel exiting that aspect of the personal computer market seems obvious.
Thankfully, there are plenty of small-form-factor PCs from the likes of Minisforum, Asus, MSI, HP, Lenovo, and others to fill the void. ®