Mint 21.2 is desktop Linux without the faff
Nifty new features mostly go to Cinnamon users, though
The latest update to Linux Mint is here, with expanded video file format support and a tweaked Cinnamon desktop. It's as cool and refreshing as ever.
As usual 21.2 comes in three separate editions – Cinnamon, MATE and Xfce, which very approximately equate to being best suited to high, medium, and low-end PCs. Cinnamon is the best choice if you have a decently specified PC, especially if it has a HiDPI screen or a dedicated GPU – or, of course, both. MATE is a bit more traditional, and as there hasn't been a new stable release in a couple of years, you get the same version as Mint 21 had when it came out. Xfce is the best of the trio for low-end hardware, needing no 3D support and using the least RAM.
We have already looked at what was coming in this release a few times, including the new version of Xfce as well as better multi-core performance in Cinnamon 5.8. We compared the three desktops side-by-side when it got to beta test last month – and just to reassure the more conventionally minded who don't read the comments, the screenshots there were just to illustrate how the three desktops handle vertical taskbars. Don't panic: all three default to the traditional, horizontal arrangement.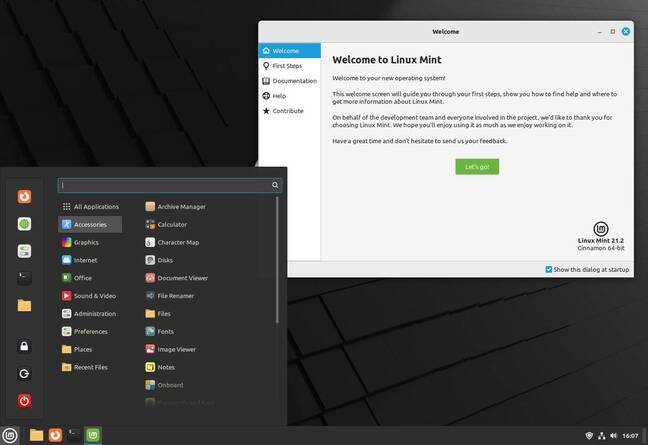 Mint 21.2 won't shock you with radical changes, but there are various small improvements – for instance, it's easier than ever to resize the main menu
We gave this much coverage because Mint is an unusual sort of presence in the Linux world these days. Mint is a pure-play desktop distro, while the big three vendors – Red Hat, SUSE and Canonical – all mainly focus on the enterprise server market, where the big bucks are to be made. That means a constant churn of new technology, often piggy-backing on industry trends such as containers, immutable file systems, and IoT. (That's "Internet of Things," although as a wise man once nearly said, "the street finds its own names for things.")
Mint goes the other way. It's free, supported by donations, and essentially a more polished and user-centric variant of Ubuntu which has carved out its own niche by rejecting some of Ubuntu's more jarring technological and UI changes. It doesn't have a server version, although it maintains a separate edition based on Debian instead of Ubuntu, we suspect just in case Canonical ever makes such drastic changes as to stop Mint being viable. (Being based on Ubuntu, Mint is now also 64-bit only, but if you have a well-specified 32-bit machine, the Debian edition may help you.)
There are other distros which aim to wrap a friendlier face on Ubuntu, but Mint retains an edge. It's based on a more current version of Ubuntu than even the latest Zorin OS, and Mint put effort into improving its upgrade procedure a few years ago. Zorin only just last month introduced its own version upgrade tool, which should help with its still forthcoming Ubuntu 22.04-based release.
Linux Lite is also an option, which avoids both Snap and Flatpak. The Teejeetech Zinc distro does too, but also offers much improved handling of both native .deb packages as well as AppImages.
Even so, we reckon Mint is almost certainly the most widely used. It sticks with the solid basis of the current Ubuntu LTS release, without even adopting Ubuntu's HWE kernel and driver bundle. This means it's about as widely compatible as Linux gets, and it's substantially less work than setting up most other distros as it comes with most drivers and media codecs pre-loaded. This release adds support for HEIF and AVIF file formats, Adobe Illustrator files in the document viewer, improved touchpad gesture support, plus an improved Bluetooth stack and login screen. There are also new wallpapers and themes, plus a global dark mode.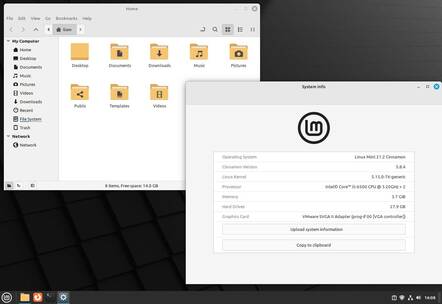 The Nemo file manager has new, clearer folder icons but the kernel is an older one, albeit a supported, LTS version
Ubuntu originally became a success because it was simple, easy and free. Mint is all of those and additionally retains a traditional, Windows 95-style desktop. This won it a lot of users when Canonical went down more experimental routes, first with the macOS-like Unity desktop and later, following a very harsh assessment from Hacker News comments, it killed Unity and switched to GNOME 3.
It is long ago now and we suspect many have forgotten, but the desktop kerfuffle is all down to legal threats from Microsoft, which in 2007 claimed that Linux infringed 235 of its patents, although it was too busy to specify which ones. The move was probably mainly aimed at Red Hat, although the latter unflinchingly stared Redmond down and got away with it.
Inasmuch as the Linux industry had more or less consolidated on GNOME 2 at that point, Microsoft's ploy was successful and profoundly disruptive, but it has certainly allowed Mint to thrive. ®