NASA and pals complete Artemis II recovery dress rehearsal
One more box checked in humanity's quest to return to the Moon
NASA has cleared another hurdle toward sending humans back to the Moon with the successful completion of its first Artemis II recovery test mission.
Underway Recovery Test (URT) 10 saw NASA, the US Navy and US Air Force teaming up to test post-splashdown operations for the end of Artemis II's forthcoming lunar excursion. Unlike recovery tests for Artemis I, which was unmanned, this test included crew operations to ensure the four-person complement gets out of the Orion capsule and back to the recovery ship without incident.
"URT-10 is the first time that the DoD and NASA have exercised the additional recovery requirements critical to future crewed missions," said Lt. Col. David Mahan, operations director for First Air Force, Detachment 3, which is assigned to provide support for NASA's human space flights.
"This event allowed NASA and the Department of Defense to put their years of training into practice to safely recover the capsule and simulated crew. Lessons learned from URT-10 will ensure that recovery for subsequent crewed Artemis flights be safe and effective," Mahan said.
URT-10 used a new mockup of the Orion capsule for its recovery test run, which included an inflatable wraparound "front porch" for astronauts (in this case a few members of the recovery crew) to exit onto once Navy divers verified the capsule was safe to exit. 
Once on Orion's porch, helicopters were sent to pick up the crew and ferry them back to the recovery vessel, the USS John P. Murtha. At that point, the capsule was secured to the recovery vessel with a series of cables and slowly towed back to its well deck.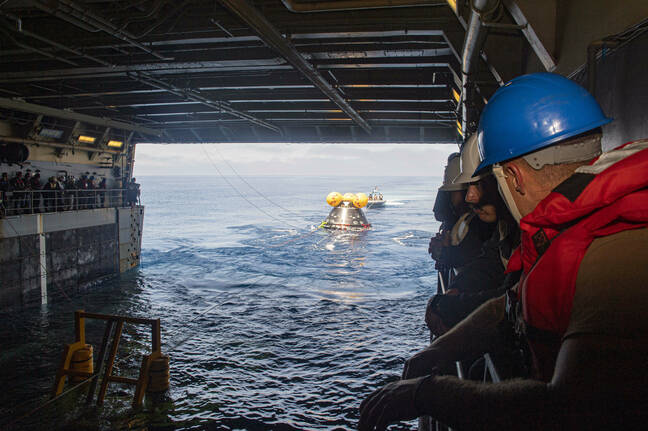 The Artemis II dummy capsule being towed into the USS John P Murtha's well deck
The previous URT mission, number 9, went ahead in late 2021 and saw the Murtha used to successfully recover a dummy Artemis I capsule and earn certification for recovery of the real thing, which was performed by the USS Portland in December of last year.
Since then, recovery teams have been modifying their timelines to ensure that astronauts on Artemis II will be able to get back to the recovery ship less than two hours after splashdown, the Navy said. The Artemis II crew – NASA astronauts Reid Wiseman, Victor Glover, Christina Hammock Koch, and Canadian Space Agency astronaut Jeremy Hansen – are scheduled to participate in another recovery test next year as part of their mission training.
NASA recently completed the first launch simulation for Artemis II, which at last estimate is scheduled for late 2024. An upcoming Artemis II mission update press conference on August 8 could change that, or dial it in with some more specificity; we asked NASA if it had any updates to provide about Artemis II's planned launch date, but haven't heard back. ®