Google Street View car careens into creek after 100mph cop chase
That's not what they meant by 'move fast, break things' ... But maybe brake things
Ever wondered why Google Maps Street View images can have such poor quality sometimes? A police incident in the US state of Indiana on Monday may offer an answer.
According to Middletown Police Department, a small vehicle was observed passing several others heading westbound on US Route 36 outside Shenandoah High School. The vehicle was deemed by officers to be driving in excess of 100mph (160kph).
The officer present, Chief Landon J Dean, dutifully began pursuit and said he was able to identify the vehicle as a Google Maps car by virtue of the 360-degree cameras mounted on the roof.
By the time he caught up with the Google vehicle in the 8500 block of West US 36, it was still going at more than 100mph and refused to stop, the police claimed. The chase continued for several miles into Madison County, where the vehicle slowed briefly at a red light – only to pass straight through, according to the cops' statement.
The pursuit came to an end east of Pendleton, when the driver cut south due to a bridge being out. It was at that point that the driver lost control and careened through a yard into a creek, say the cops.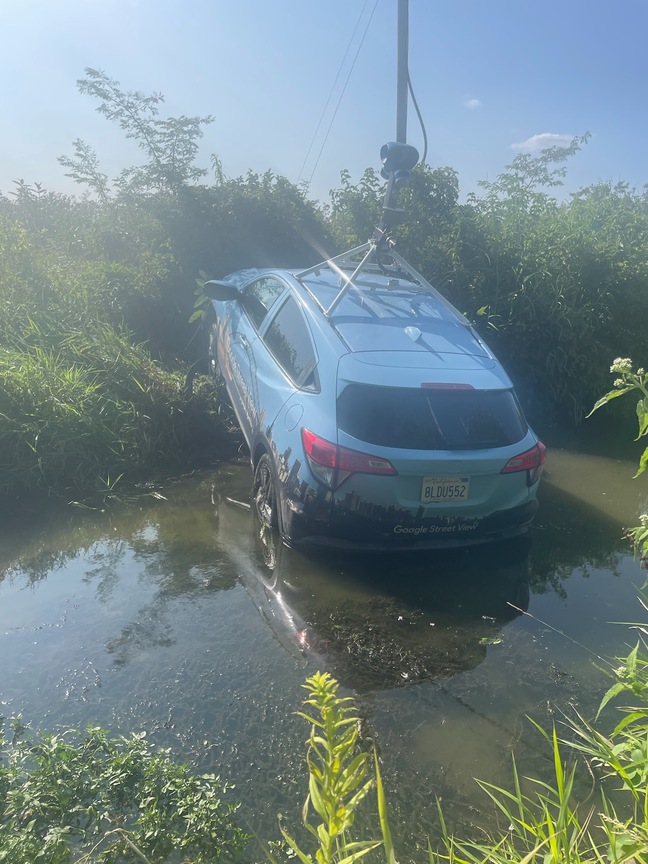 Pic: Middletown Police Department
Police said the driver, identified by a Florida driving license as Coleman Ferguson, was placed into custody and taken to Henry Community Health Hospital in New Castle. According to the police statement, he told officers he worked for Google and was afraid to stop.
Having been given medical clearance, the man was arrested on charges of resisting law enforcement with a vehicle and taken to Henry County Jail. "Level 6" felonies such as this can carry prison terms of six months to two and a half years.
Google relies on contractors to drive their vehicles and was paying a reported $11-$17 an hour for the privilege in 2020.
According to a Techradar interview with a geospatial technologist at Google back in 2009, contractors are chosen on the basis that they "know the local areas. We say 'We need to cover every street that it's possible for you to drive down' – that's a major element of what we do. We can only really drive down public streets so the drivers pretty much go off and drive their own local neighborhood."
All a contractor has to do is drive around at the speed limit; the rest of the data-gathering process is automated. Whether the data quality is sufficient for Street View when it is gathered during a 100mph police chase is a question that remains unanswered.
A Google spokesperson told The Register: "We partner with contractors to drive and collect imagery. We take the safety of our Street View operations very seriously, and we're committed to working with the contracted company and local authorities to ensure the proper actions are taken to address this situation." ®