Microsoft yanks internal Windows 11 testing tool soon after release
Redmond bugs out of that side quest
Microsoft yesterday released then quickly pulled an internal tool for enabling experimental Windows 11 features.
The StagingTool app was offered to Windows Insider fans in a Microsoft Bug Bash quest. These quests essentially invite users to try out specific features or functionality and see if they can hit a bug and report it, presumably so engineers can home in on the problem. This test program often precedes a major Windows release, such as the Windows 11 23H2 update that is scheduled to land sometime this autumn.
Indeed, on Wednesday, the IT giant kicked off another round of quests.
And as discovered by a netizen using the handle XenoPanther, a Windows Insider Canary participant, two of the latest Bug Bash quests included links to StagingTool and instructions to download the app and use it to enable certain features for testing.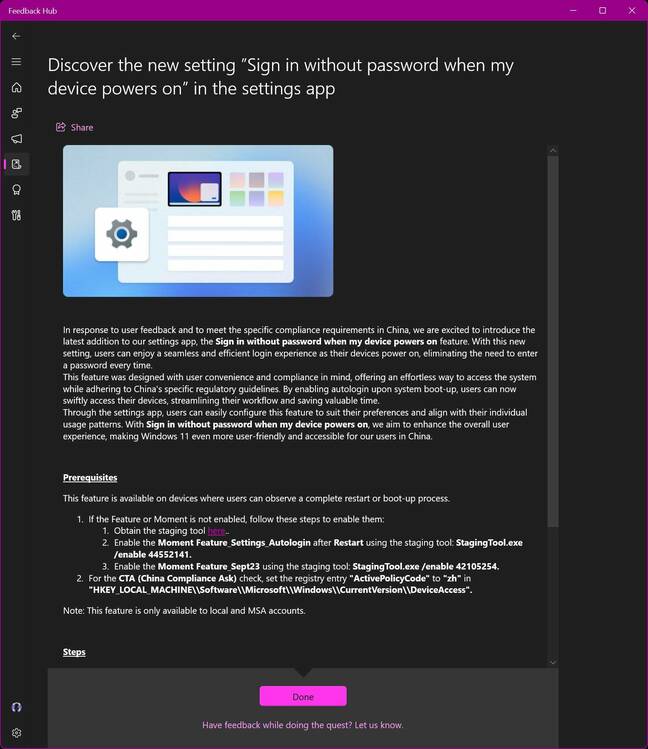 One of the Bug Bash quests that linked to Microsoft's StagingTool, via XenoPanther ... Click to enlarge
So far so good. But then those links to StagingTool were torn down not long after XenoPanther's discovery, they told The Register, and the download was removed from Microsoft's website. There are now copies of the StagingTool executable floating around the internet, as one would expect, though we wouldn't trust them.
StagingTool is a command-line application to list Windows functionality, enable/disable test features, and collect system telemetry. Armed with StagingTool, Windows Insiders can switch on stuff as they wish, and generally tinker with features that Microsoft is still developing.
For Windows bug hunters and ultra-early adopters, StagingTool may seem familiar. The internal application does much of the same things as third-party apps like ViVeTool, which were developed "for power users" who want to dig into the latest Windows features without waiting for a release – or for Microsoft to sneak out its own tool. 
As to the differences between StagingTool and ViVeTool, aside from using Microsoft's official method of toggling Windows features on and off versus methods discovered by third-party developers, XenoPanther told us there are several.
"For the most part they do the same job," XenoPanther said, but noted that StagingTool has flags for offline images, the ability to conduct real-time tracing for individual features, and includes links to mission control for features that show up when queried.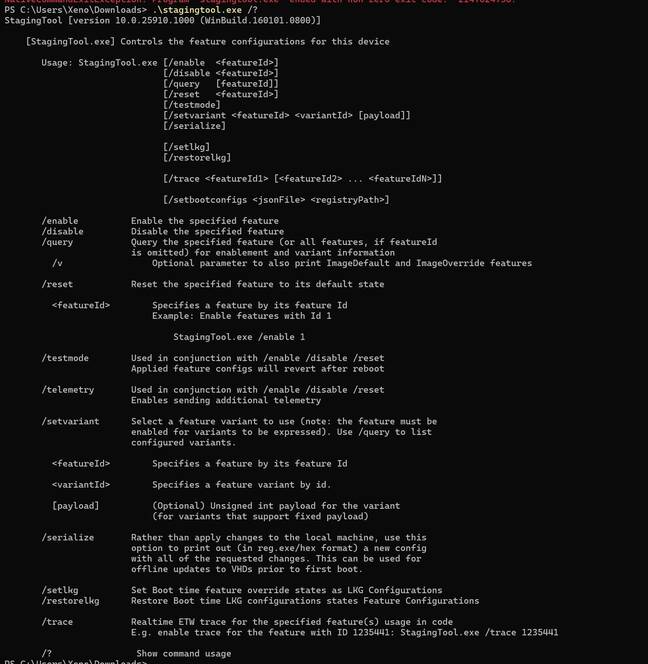 StagingTool's CLI options, via XenoPanther
"ViVeTool lacks those three features," XenoPanther told us, "but ViVe has the ability to export/import IDs that are currently enabled on the system."
Microsoft is well aware that third-party apps like ViVeTool exist. "Some of our more technical Insiders have discovered that some features are intentionally disabled in the builds we have flighted," Windows Insider program director Amanda Langowski said in a blog post early last year.
"This is by design, and in those cases, we will only communicate about features that we are purposefully enabling for Insiders to try out and give feedback on."
Microsoft didn't immediately respond to our questions about the leak of the tool.
For those that want to try downloading a copy of StagingTool for themselves, XenoPanther said the SHA1 hash for the original executable is b1066e5aac4d4e39534d76a5636564f9b3f3c1f6 if you want to check that you have an original copy. Use at your own risk. And don't forget: you can probably already do most of what you'd want to try with ViVeTool and similar third-party apps. ®