Have you ever suspected your colleague doesn't hope this email finds you well?*
Grrrrrrr.... Why are you sending 15 bloody messages in 10 seconds? Stop pressing return
Poll It was international coworking day this week, which quite a few corporates used to get people excited about coming into the office again.
Yes, the office. Remember? That place where your colleague microwaves seafood pasta in the shared kitchen, boils eggs in the kettle, repeatedly sighs meaningfully, or makes horrible mixed tea and milk in the staff teapot.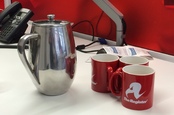 Milk IN the teapot: Innovation or abomination?
READ MORE
And the above are just things Register colleagues have confessed to doing. But coworking isn't just an in-person thing, this international holiday website insists. A "coworker is someone who works in the same company or workplace as you do" regardless of location or workspace. By that definition, it means both the people who work independently in the same collaborative workspaces (as the day's inventor, open source software engineer Brad Neuberg, might have it**), or your actual colleagues, who work with you in-person or in a virtual collaborative workspace like Slack or Teams.
With that in mind, we decided to ask about the the overall most irritating thing that your fellow coworking space-takers and/or your colleagues do day to day. Please feel free to add your own take in the comments.
And you know what, there are some very rewarding aspects of working with others, even for the most die-hard "I don't do well in a team" type. If you'd indulge us, we have a positive poll on this too. ®
* With a hattip to Trixie Mattel, who wrote this joke.
**Sorry Brad. It's clear you disagree. But just inventing something doesn't make you the expert. Winkyface.