Tinker Tailor Soldier Pi? Asus's 'NUC-sized' SBC aims to out-Pi the Raspberry
Bigger, bolder, and brimming with ports for hobbyists and devs alike
Updated Asus has released a new addition to its Tinker Board line of Arm-based single-board computer (SBC) systems, giving hobbyists and embedded developers another design option with a plethora of ports.
The Tinker Board range launched by by Asus in 2017, but while previous models have typically followed a similar form factor to the popular Raspberry Pi – slightly smaller than a playing card – the latest Tinker Board 3N series sports a larger 100 x 100mm (4 x 4in) footprint described by Asus as NUC-sized.
Like earlier models, the Tinker Board 3N is based on a system-on-chip (SoC) from Rockchip, in this case the RK3568 which features a quad-core Cortex-A55 CPU cluster plus a Mali-G52 GPU, while the board itself supports 2GB, 4GB or 8GB of LPDDR4 or LPDDR4X memory.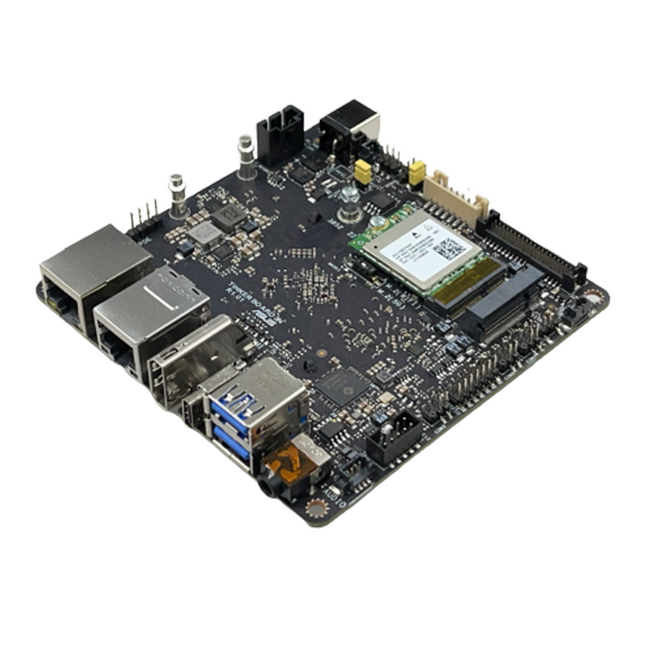 According to Asus, the new Tinker Board provides better computing performance, low power consumption, and a wide range of interfaces, making it suitable for a variety of embedded applications.
That performance boost is in comparison with the Tinker Board S R2.0, according to various charts shown on the Tinker Board website, although Asus omits to mention what clock speed it is running the RK3568 at.
The range of interfaces includes dual gigabit Ethernet ports, with the ability to draw Power over Ethernet (PoE). The Tinker Board 3N is also suitable for applications calling for multiple displays, with LVDS, HDMI and eDP display outputs, we're told.
Asus also lists board headers for a CAN Bus, widely used in industrial settings, plus RS-232 and RS-232/422/485 COM ports, and a 12-pin GPIO header including I2C and SPI bus connections.
The Tinker Board 3N features two M.2 slots, one of which can be used for a Wi-Fi 5/6 and Bluetooth module, while the other can fit a 4G/5G cellular modem or an SSD module.
Other storage options include up to a 64GB eMMC module or a MicroSD card slot for booting the operating system.
Speaking of operating systems, Asus claims support for the Tinker Board 3N with Debian or Yocto Linux, plus Android. It also claims to support firmware over the air (FOTA) updates for both Android and Linux.
Asus says that Tinker Board 3N will be available in three versions "to meet diverse project requirements," comprising Tinker Board 3N PLUS, Tinker Board 3N and Tinker Board 3N LITE, but offers no information on what the differences between these models are.
In terms of availability and pricing, Asus points to the usual outlet for each region, which includes Amazon in the US, Solid State Supplies in the UK, and Scorptec in Australia. None of these had the Tinker Board 3N listed at the time of writing, but we will update this article if we discover more from Asus.
While most Tinker Boards are based on an Arm SoC, the previous model Asus released earlier this year was based on a RISC-V chip. The Tinker V has a 1GHz single-core Renesas RZ/Five processor with 1GB of DDR4 memory and supports Yocto and Debian Linux.
Asus and Intel also disclosed last month that they were in negotiations for Asus to take on the Intel NUC brand from Intel, following the chipmaker's decision to cease development of that product line. ®
Updated to add:
ASUS will have three models, and is still waiting on an ETA for the stock. Only GBP pricing is available at present.
| Part number | European Article Number /Universal Product Code | Model name | Estimated suggested MSRP |
| --- | --- | --- | --- |
| 90ME06K0-M0EAY0 | 4711387283653 / 197105283657 | Tinker Board 3N Plus 4G/32G | £194.53 |
| 90ME06K1-M0EAY0 | 4711387259207 / 197105259201 | Tinker Board 3N 4G/32G | £150.07 |
| 90ME06K2-M0EAY0 | 4711387290491 / 197105290495 | Tinker Board 3N Lite 2G/32G | £130.06 |