Version 5 of systemd-free Debian remix Devuan is here
Debian Bookworm without the controversial init – or the platform support, or the polish
Devuan 5.0 "Daedalus" is derived from Debian 12 "Bookworm", but with the controversial systemd init replaced by the user's choice of sysvinit, openrc or runit.
The latest release of the distro, codenamed Daedalus, came out at the start of the week, just shortly before Debian's 30th birthday. Being based off Debian 12 "Bookworm", released in June, its many components inherit the versions included in that version: for instance, it uses Linux kernel 6.1, which for now is the newest long-term support kernel version.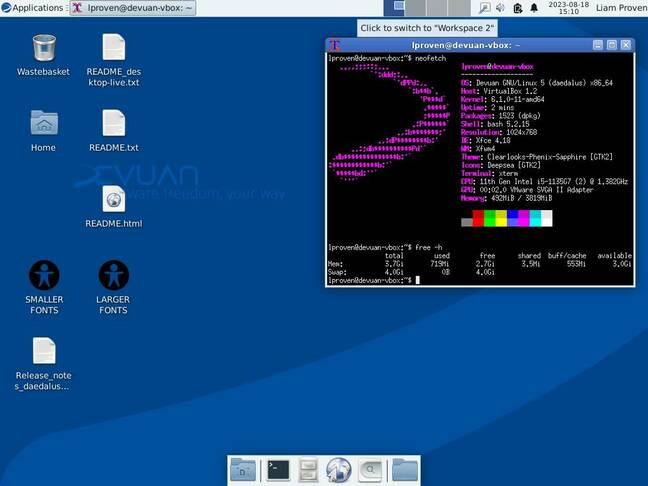 The default Xfce 4.18 desktop is quite standard, if a little cluttered with unhelpfully named files (click to enlarge)
There are multiple editions of Devuan, but substantially fewer than that of its parent distro. The main supported platforms are 64-bit and 32-bit x86, or in Debian parlance, amd64 and i386. For these, there are multiple ISO images available: two live images, one text-only and another which boots to the Xfce desktop; plus separate online and offline installers. The latter comes as a roughly 4GB DVD image, or a set of four CD-sized images: server plus cd2, cd3 and cd4. (As far as we can see, there are nominally also a PowerPC and some Arm versions, but we couldn't find any installation ISOs for version 5 – you'll have to do a network installation.)
The live images come with Wi-Fi chipset firmware pre-loaded, although you can remove it if you prefer, and the live media and offline installer include speech-synthesis support, so that blind and visually impaired users can install the distro. We didn't try this, but it's great that this is included – it's often an afterthought or missing, in far too many cases.
The live graphical medium uses the installation program from Refracta, a long-dormant Devuan remix which seems not to have updated in five years. The Devuan 5 live image booted perfectly happily from a Ventoy multiboot USB key, but we were distinctly unimpressed by the installation experience.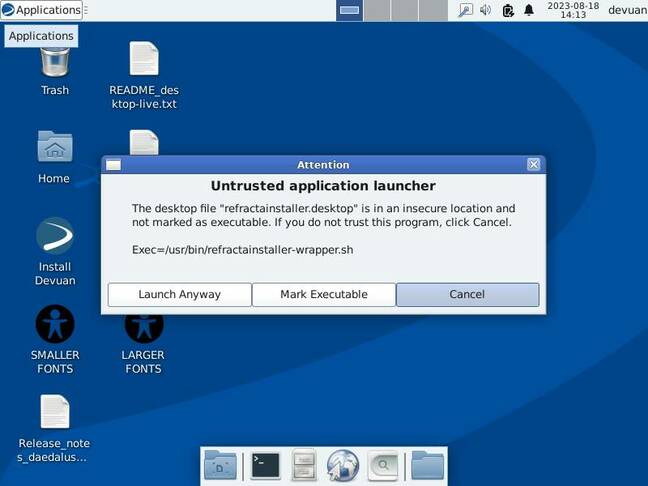 For inscrutable reasons, the Devuan 5 installer isn't marked as executable, on its own live medium
All the keyboard layouts on the default list are variants of US English, and choosing anything else requires half a dozen steps. There are other strange questions, or choices that are not typical of other installation programs, and over the decades, The Reg FOSS Desk has seen a lot of Linux installers. Even so, we're not used to being asked which C locales we wanted it to compile. You must choose at the start of installation if you want a separate /home partition; you can't choose your own mount points during installation, or which partitions should be formatted or not: it's all-or-nothing. Despite multiple attempts, we were unable to get a successful installation on our testbed Thinkpad W520. The installer always threw multiple errors, and the resulting installations consistently kernel-panicked on boot.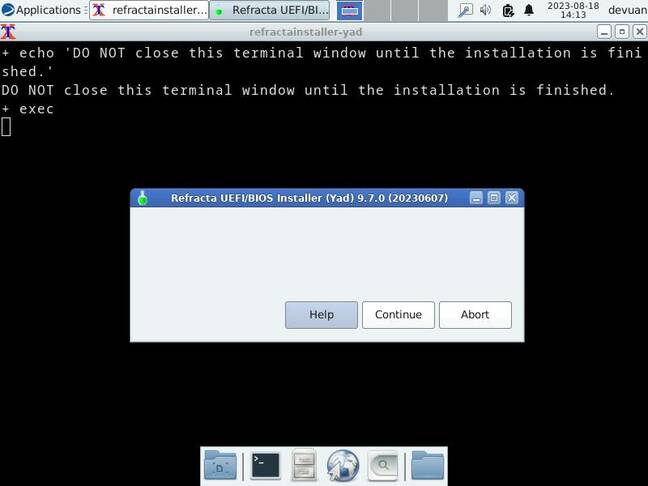 Throw caution to the winds, run the untrusted installer, and this helpful dialog box is the second screen. Please ignore the terminal window behind the curtain.
We tried again with the offline installer DVD ISO. However, that won't boot from the very latest Ventoy: the installation program can't find the source files. We tried burning a DVD, for the first time in a few years, but that didn't work either. So, we had to find an 8GB USB key to dedicate to it, as the image is just slightly too big to fit onto a 4GB key. That worked, and gave the plain old text-based Debian installer, which worked fine and resulted in a running system. Close to the end of the process, it asks what init system you want: the classic sysvinit, OpenRC and runit. (Ironically, the Arch wiki has some of the best explanations we've seen.)
Devuan, like Debian itself, is not a lightweight distro. We chose the same Xfce desktop that's the default for the live image; in our opinion, it's the most sensible and useful choice these days. The resulting OS idled at about 600MB of RAM in use. (For comparison, the Debian-11-based Raspberry Pi Desktop x86 distro idles at 200MB.) It still feels quick and responsive, though – which is a good thing, as we discovered that the machine's nVidia Quadro 1000M is no longer supported at all, in either Debian 12 or in Devuan 5. Happily, its integrated GPU is fine. (For those who just joined us: This is why proprietary drivers are a bad thing, OK?)
Some of these things, such as Ventoy support, are niggles that will doubtless be smoothed out in time. Once it's installed, it's basically just Debian. There are some notable differences due to there being no systemd – for instance, logind, the systemd seat manager, is absent. Instead, there is libseat, which can either work with its accompanying seatd daemon or elogind.
The real use case for this is rootless Xorg, or a Wayland compositor such as Sway without elogind. We suspect that actual multiseat operation is largely irrelevant in the world today, when full-function computers such as the Raspberry Pi or a used thin client cost considerably less than a "zero client". (For example, Dell used to sell one for a princely $500.)
Devuan is a hard distro to summarize. On the one hand, the sort of xNix graybeard who favours Debian is also exactly the sort of curmudgeon who harbors grave concern about systemd, so it's good that there's an option. On the other hand, it's bad that it split the already understaffed Debian developer community.
If you don't care about weird technical stuff like init systems, there is absolutely no reason to even consider Devuan. It's not better than Debian in any generally-applicable way: it's considerably harder to install, has significantly poorer platform support, and it includes less software, because packages that would bring in systemd as a dependency are banned. While Debian itself recently started adding RISC-V support, which may yet be followed by LoongArch support, which will bring it to 12 supported CPU architectures, Devuan has half as many.
If you want a systemd-free server, it's a solid choice – but then so is FreeBSD, which also just celebrated its 30th birthday. If you want a desktop Linux that doesn't use systemd, then MX Linux is a much better option, and it has a new Debian Bookworm-based version, too.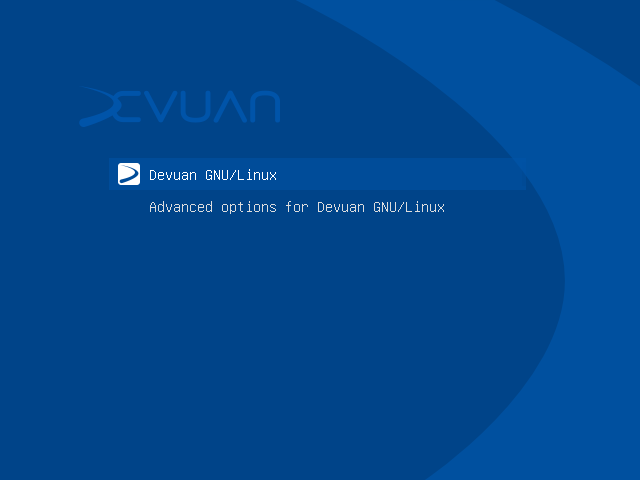 If you do manage to get it to install, the GRUB screen is clean and attractive.
It is nearly 20 years since Ubuntu débuted, and in that time, Debian has picked up considerable polish and ease of use from its more popularist offspring. Debian is easier to install than ever, it has a better shell package-management thanks to the new apt command, it now has built-in non-free firmware, and various other rounded-off sharp corners. The Devuan developers, it seems to us, scorn this decadence, and as a result, it reminds us of Debian in the bad old days: it's hard to install, because that way, you can establish your geek credibility. It's more work, but it gives you less in return. If that's what you want, then it's great, we guess: this version is newer, has less hardware support, and it's harder than ever to install.
Go for it, and let the battle to outgeek each other commence. ®