Price rises yet to hit customers, says Salesforce as it raises forecasts
CRM vendor might find itself pushed to the margins to keep investors happy
Salesforce has posted upbeat results and raised its forecasts for revenue, operating margin, and operating cash flow for next year. But price rises announced earlier this year are yet to affect customers, the CRM giant said.
For its Q2 2024 results, the SaaS vendor reported revenue of $8.60 billion, up 11 percent year-on-year, while GAAP operating margin reached 17.2 percent up from 2.5 percent for fiscal Q2 2023. Net income hit $1.27 billion, up from $68 million in the same period last year.
Earlier this year, Salesforce raised prices by up to 10 percent, but the vendor said it was too early to say how the move might affect demand.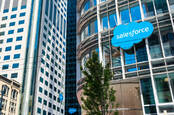 Investors give Salesforce a 4% slap on back for raising prices
READ MORE
On a call to financial analysts, Brian Millham, president and chief operating officer, said: "We're going to see the impact of our price increase really hit the customer base over the next one to two to three years."
CFO Amy Weaver said the "pricing uplift" hadn't had "a significant influence on our guidance for this year," adding: "I think that these opportunities really take a while to roll through our customer base, particularly on pricing as we look to renewals."
In the meantime, the company is hoping to get a greater share of corporate IT budgets with the classic enterprise vendor meal deal offer; in this case temping users with a bit of AI or application integration with their CRM burger.
Asked about his hope for customer "wallet share," Millham said: "With new technology like AI and Data Cloud [the Salesforce analytics environment], there's a huge opportunity for us to go back to our customers and expand the number of clouds that they're using, a big growth opportunity to drive more value for our customers and certainly more success for us as well."
Despite the upbeat results, Salesforce may find itself pushed to continue on its current margins trajectory for some time to keep investors happy.
In February this year, Third Point Capital became the fifth activist investor to declare its interest in Salesforce following Mason Morfit's ValueAct, Jeff Ubben's Inclusive Capital, Dan Loeb's Third Point LLC, and Elliott Management, which surfaced in January.
At that point, Salesforce had already targeted a 25 percent operating margin. However, in a report last year, financial analyst firm Starboard suggests Salesforce should be targeting adjusted operating margins of 31.7 percent to get it closer to those enjoyed by Oracle (43.3 percent) and Microsoft (46.6 percent).
This week, Weaver told analysts: "The margin improvement was driven by savings from our restructuring actions, strengthened revenue, and investment timing."
The CFO was referring in part to the restructuring plan announced in January, which included a 10 percent job cull, equivalent to around 7,000 roles.
If Salesforce is going to get to its hoped-for margins, it's not impossible more "restructuring" could be in the offing despite the upbeat results. ®