PEBCAK problem transformed young techie into grizzled cynical sysadmin
Banks aren't very creative, which became an issue for one customer
On Call With Friday once more upon us, another week has descended from the energetic optimism of a Monday to the deflated downtime of Friday. To ease that slump The Register as always presents a new instalment of On Call, our weekly reader-contributed column that shares tells of tech support triumphs and terror.
This week, meet a reader who asked to be Regomized as "Manny Hats" because after he graduated from a computer science degree and got a job at a bank, he wore … you guessed it … many hats.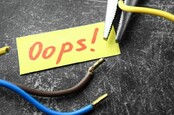 Douglas Adams was right: Telephone sanitizers are terrible human beings
READ MORE
"I did everything from working as a teller, to handling new accounts, to loan secretary work," Manny told On Call.
And he did it with some ugly tech. "We were stuck with cast-off dinosaur thin clients, an ATM that came with a Windows XP for Embedded Systems license key and 4GB of RAM (new models usually get 32GB), plus phone service that was perpetually spotty, and more."
Manny stuck around regardless, and was eventually asked to take over customer information file changes as well.
Which was how he ended up on the phone one day, speaking to an elderly customer who was having trouble with his internet banking app.
Manny started by running through a checklist.
"I could tell he needed help with signing in, but as usual for his age bracket, his descriptions were far from technically rigorous." Manny looked up the customer, found his user ID, then read it back to the customer so he could enter it into his app.
Which produced a "User Not Valid" error.
Manny was stumped. The screen he could see suggested the account was not just valid but had recently been accessed.
"Because I wore so many hats, I had extensive back-end access. So, I decided to try some things."
None of which worked. Manny decided to start from scratch and give the customer a new ID.
Which also didn't work.
Manny escalated the matter to the dedicated Online Banking group – a decision that meant he and the customer got to wait for a specialist to pick up the call.
During that pause, the customer made an interesting remark.
"I guess you guys changed your logo?"
That simple question saw Manny almost drop his phone, because he knew that Banks aren't very creative, and that the universe of sensible names for online banking apps is small.
"There were, therefore, approximately 37 apps in the App Store with approximately the same name. Which meant the customer was trying to log in to another bank's app, and I hadn't checked that."
Fair enough?
Manny thinks not. "The moral of the story is that no matter how bad your hardware or software, always check for PEBCAK – Problem Exists Between Chair And Keyboard."
"I stuck my neck out to help this guy, and then that happened. If that won't turn me into the grizzled, gruff, and uncharitable sysadmin of yore, I don't know what will."
Why reading more On Call, of course!
Which is where you, dear reader, come into the picture.
If you have a story of help desk hell, overlapping apps, or being asked to wear too many hats at work, click here to send On Call an email. Feel free to pick your own Regomized name too. Manny Hats did because he thinks some other readers will enjoy seeing his tale in print. Perhaps you'd like to send a coded message too. ®