South Korea's Moon orbiter snaps India's lander
As Japan's space agency preps a rover to land on Martian moon Phobos
South Korea's science ministry has released a photo taken by the nation's Danuri Moon orbiter depicting the landing site of India's Chandrayaan-3 Moon mission.
The lunar orbiter's side hustle as space paparazzi saw it take the snap on August 27 – four days after Chandrayaan-3 became India's first successful Moon landing, and the first ever touchdown at the natural satellite's south pole. The snapshot was taken from a distance of about 100km.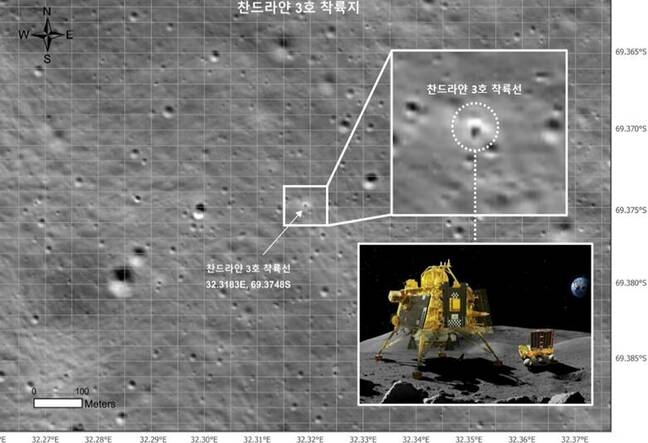 Part of Danuri's job is to take images of potential lunar landing sites, so photographing the Moon's south pole was very much on mission.
The Ministry of Science and ICT (MSIT) and Korea Aerospace Research Institute (KARI) said they would release more photos of Danuri's work – including potential lunar landing sites, as well as five types of lunar element maps, the radiological environment of the Moon, and more – this December. The lunar orbiter is scheduled to operate until December 2024, at which time it will have been in service for two years.
Meanwhile, another Asian space agency, Japan's JAXA, reported that its X-ray Imaging and Spectroscopy Mission (XRISM) successfully powered on, communicated with ground control and achieved proper attitude control, thus marking the end of the spacecraft's critical operation period.
The joint NASA and JAXA mission has now entered the commission period, which will last three months and includes verifying the functions of the satellite's onboard equipment so that it can observe the X-ray universe.
JAXA also this week had some of its still Earth-side Martian Moons eXploration (MMX) payload – specifically the IDEFIX rover – displayed at a media even in Toulouse. The 30kg rover is provided by France's National Center for Space Studies (CNES) and the German Aerospace Center (DLR).
IDEFIX comes equipped with cameras, a radiometer, and a Raman spectrometer that are slated to travel to the surface of Mars's moon, Phobos.
JAXA is also keeping an eye on its SLIM moon lander mission, which will take a few months to reach Luna before attempting a landing. ®