HP reveals bonkers $5k foldable tablet/laptop/desktop
There's a weird one-and-a-half screen laptop mode, too
New PC form factors are few and far between, but HP Inc. has tried to shake things up with a foldable device called the Spectre Foldable PC that can be a 12.3-inch laptop, or a bigger laptop, or a 17-inch desktop, or a 17-inch tablet.
To understand how the device makes those transformations, know that its innards are packed behind a 17-inch, 1,920 x 2,560 OLED touchscreen. There's a kickstand in the back of the screen so it can rest on a surface as illustrated below.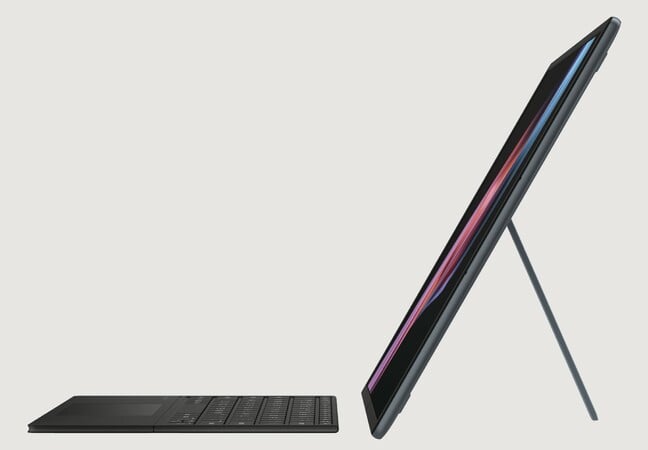 HP's Spectre Foldable PC in desktop mode – Click to enlarge
Fold the screen in half and the Bluetooth keyboard you see at left above can click into place to produce a 12.3-inch laptop, as depicted below.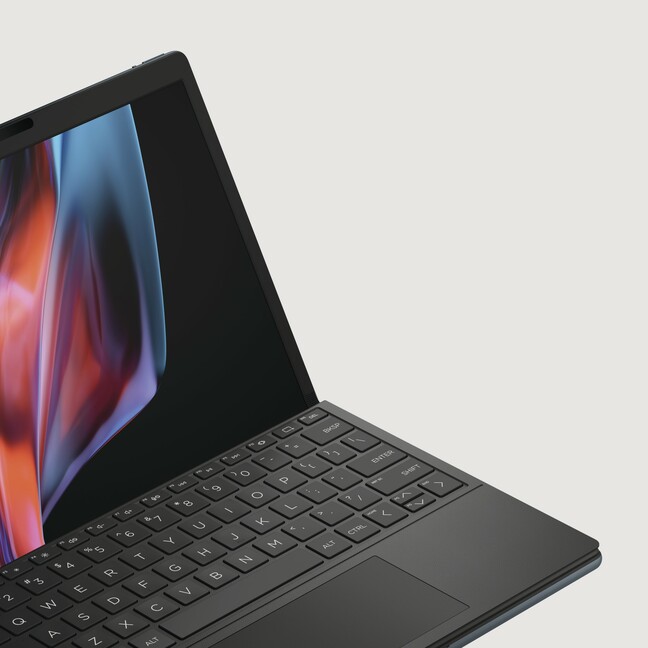 HP's Spectre Foldable PC in laptop mode – Click to enlarge
The keyboard has a hinge of its own that lets it tilt down a little, allowing it to be placed half-way down the second half of the screen to produce a one-and-half-sized laptop.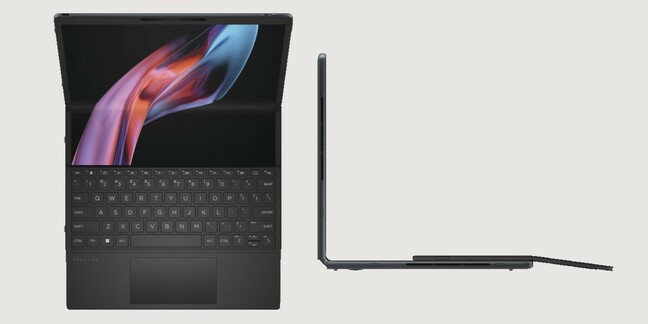 HP's Spectre Foldable PC in 1.5 x laptop mode – Click to enlarge
It can also be used as a 17-inch fondleslab – a configuration we're sure you can imagine without an extra image.
Under the skin you'll find an Intel Core i7-1250U – a ten-core Alder Lake with a pair of performance cores and eight efficient cores. 16GB LPDDR5-5200MHz RAM is aboard, along with a one-terabyte NVMe SSD, Intel Iris XE graphics, Wi-FI 6E, and Bluetooth 5.3. Power flows in to one of the two Thunderbolt 4 with USB Type-C ports that can also handle DisplayPort duties.
The machine measures 277.05 x 191.31 x 21.4 mm when folded, and weighs 1.354kg without a keyboard or 1.624kg with the Bluetooth input device.
All of the above will set you back $4,999
Which is a lot for a PC, in 2023 or most of the last 20 years. Especially a PC that, like this one, is powered by last year's Intel CPU.
Foldables, however, command premium prices in the smartphone market, where Samsung has emphasized how stylish they are compared to boring old rounded rectangular prisms.
This device's flexibility certainly gives HP Inc. a point of difference – whether it's practical remains to be seen. The machine is currently available for pre-order in the US only, with delivery in "limited quantities in October" and overseas sales starting later in the northern Autumn/Fall. ®