Epic cut: Fortnite games maker culls 16% of staff
That partial victory against Apple is seeming more pyrrhic by the day
Fortnite founder Epic Games said on Thursday that it intends to lay off 16 percent of its staff, around 830 people, and has also sold its stake in Bandcamp and a marketing company focused on appealing to children. 
Epic CEO Tim Sweeney confirmed the plans in an email made public today. In it, Sweeney justified the cuts by saying that Epic had "been spending way more money than we earn" for "a while now." 
"I had long been optimistic that we could power through this transition without layoffs, but in retrospect I see that this was unrealistic," Sweeney said.
Even while Epic's teams from around the world have been trying to figure out how to cut costs, "we still ended up far short of financial sustainability," Sweeney said. Epic concluded that the only way to stabilize the company's finances was to do layoffs and divestment at that scale and this particular moment. About two thirds of the job headshots are from teams other than development, Sweeney said.
Along with selling Bandcamp to Songtradr and handing control of "kidtech" firm SuperAwesome to its current leadership, Sweeney said an additional 250 people would be leaving Epic through the divestitures.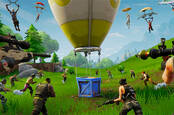 Epic payout: FTC opens Fortnite settlement claim floodgates
READ MORE
Those departures are in addition to the aforementioned 830 layoffs, Epic told The Register without answering our other questions about the layoff plans.
A portion of SuperAwesome, the parent verification and consent management toolset Kids Web Services, will remain a part of Epic, we're told. 
Epic said it's still focused on shipping core products, like such advances as more Fortnite features. It expects these layoffs to be the only round necessary to stabilize the company, and it expects to keep hiring for critical roles "while maintaining net-zero at our new size."
Sweeney said that Epic is offering all laid-off employees six months of pay, and those in the US, Canada and Brazil will get six months of Epic-paid healthcare as well. Epic is also offering accelerated stock option and 401k vesting for soon-to-be ex employees.
Speaking of expenses, there's that whole Apple fight
When The Register reached out to Epic for questions about the layoff. For one thing, Epic within the past year agreed to shell out $520 million to the FTC in settlements over allegations of children's privacy being violated and dark patterns being used to lure people into paying for stuff online they didn't really want.
About half the money will go to the US regulator, and the rest will be used for compensation payouts to those who feel they were screwed over by Epic. That'll put a dent in the finances.
Then there was the ongoing legal battle between the games house and Apple, which is sure to be keeping the lawyers' pocketbooks filled. Fortnite and Epic's other titles remain banned from the official Apple App Store over that dispute, which will affect sales, we can imagine. The game is also unavailable through Google's Android Play Store.
For those that don't recall, Epic sued Apple some years ago over the iMaker's in-app purchase system, which requires all app developers to use Apple's payments, and its associated 30 percent commission, for all purchases made in apps. 
Epic earned a partial victory in the original case when a judge found in 2021 that Apple wasn't guilty of being a monopolist with its IAP requirements, but that it would still have to allow developers to tell users that purchases could be made elsewhere for cheaper. 
An appeals court upheld that decision in April of this year, leading to Apple appealing to the US Supreme Court. The appeal led to the ruling requiring Apple to allow circumvention of its IAP system being stayed, meaning Epic's victory would be delayed.
Epic snub by Supreme Court in battle to escape Apple App Store payment prison
READ MORE
Epic appealed the stay and was denied a hearing by the Supreme Court last month.
Epic appealed to the Supreme Court again on Wednesday, asking it to review the 2021 decision that found Apple wasn't violating antitrust laws. This in turn has led to Apple filing its own request with the Supremes to have the other half of the 2021 decision - the one that could cost it all that money on lost IAP commissions - reviewed. 
Epic declined to answer our questions as to whether that long, costly legal battle was behind the announcement, but the company didn't ignore the fight entirely. 
"We've been taking steps to reduce our legal expenses, but are continuing the fight against Apple and Google distribution monopolies and taxes," Epic said in its layoff announcement. With any luck that previous victory won't become any more pyrrhic. ®