The only way is WebKit: Vivaldi's browser arrives on iOS
Render unto Apple what is Apple's
The Vivaldi browser is finally making its way to iOS devices, although Apple's WebKit continues to lurk behind the scenes.
Vivaldi was notably absent from Apple mobile devices in recent years, despite other Chromium-based browsers such as Chrome or Edge turning up. As Reg readers likely know, this was because Vivaldi couldn't use the same code to create an iOS version.
Although some users might have hoped the company would find a way to circumvent Apple's iOS rules, the browser's arrival follows the approved route of using WebKit for rendering and applying Vivaldi's twist to the user interface.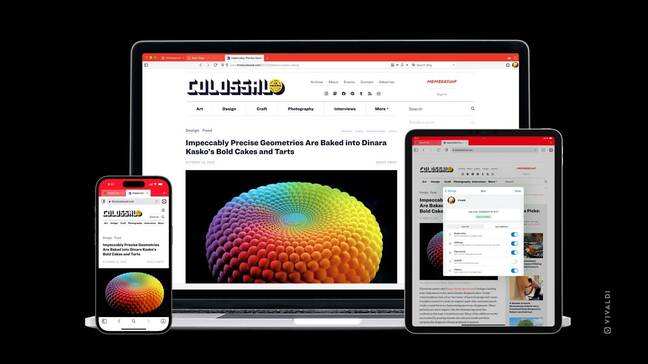 Priyonto M Rahman, an iOS developer at Vivaldi, told The Register: "At this point, all iOS browsers must use WebKit rendering engine."
Rahman noted that on the desktop, the differentiating factor between Chrome and Vivaldi was mostly in the UI: "We are adding Vivaldi-specific features on top of Chromium."
"Chrome has their own rendering engine (blink) for all other platforms except iOS. For iOS they still use WebKit because of Apple's policy."
Users of the desktop version of the browser will find many of the features to which they have become accustomed carried over to iOS – desktop-style tabs, speed dials, panels, notes, a reading list, and – perhaps most importantly – an Ad and Tracker blocker.
The Sync functionality will also ensure that browsing data stays synchronized over devices.
Handily, the level of customization possible has also been carried over. After all, while Vivaldi has plenty of features where users can tweak the interface, it is all too easy to create an experience that does not work on a smartphone display. iPad support means there is a good deal more screen real estate on offer.
Vivaldi co-founder and CEO Jon von Tetzchner said: "We are very excited to bring Vivaldi to iOS. Now you can experience browsing that is powerful, personal, and private."
And, we have to say, pretty much the same as everyone else, particularly on iOS. While Vivaldi has gone down the Chromium route on the desktop, it has followed Apple's rules on iOS and adopted WebKit for rendering.
As Rahman told us, the user interface remains the differentiating factor. Just as Chromium – and the Blink rendering engine – dominates the desktop, the WebKit rendering engine is the only game in town for iOS.
Adding Vivaldi's UI and synchronization tooling will keep things familiar for the company's desktop browser users and steer them away from considering alternatives. ®