Lenovo PC boss: 4 in 5 of our devices will be repairable by 2025
And the repair parts will be repairable too. Batteries, SSDs and more will no longer be sealed into casing
Canalys EMEA Forum Lenovo is forecasting that the vast majority of its devices will be repairable by 2025 – as will the repair parts themselves – but it is not intending to specify where customers should have their kit fixed.
Talking on stage at the Canalys EMEA Forum 2023, Luca Rossi, senior vice resident at Lenovo and president of its Intelligent Devices Group, said the company has committed to a net zero emission policy by 2050, and analyzing the components used in its hardware is part of the equation.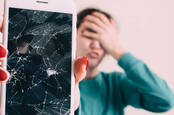 Europe's right-to-repair law asks hardware makers for fixes for up to 10 years
READ MORE
"On repairability, we have a plan that by 2025 more than 80 percent of the repair parts will be repaired again so that they they enter into the circular economy to reduce the impact to the environment."
He added: "More than 80 percent of our devices will be able to be repaired at the customer, by the customer or by the channel and we are enabling this with a design for serviceability kind of approach."
This means that "batteries, SSD, many things, will not any longer be sealed into the product but will be available for the customer to be to repaired on site and then save a lot of waste."
The world's largest PC maker doesn't have a terrible reputation in terms of the ease at which its gadgets can be mended, unlike Apple. The ThinkPad T14 Gen 3, for example, was assigned a fixability score of 7 out of 10 by Fixit; and the Framework 13 got top marks.
Lenovo and other vendors aren't going to make hardware easier to fix out of the goodness of their own hearts: the European Council last month started to update EU rules to ensure consumers are better informed about the lifespan and repairability of the tech devices they buy. The requirements should be finalized before June next year.
Similar right to repair movements are also happening stateside, including in California and New York.
Yet won't easing repairability hit Lenovo in the pocket as consumers and businesses, in theory at least, get a simpler solution to keep their devices running for longer? Canalys CEO Steve Brazier put this question to Rossi on stage.
"I think you cannot you cannot look at this in this way," he said, adding the future looks very rosy for tech companies. "There are so many opportunities that frankly thinking I'm not worried that we will damage our business by doing what is right for the planet. Not at all." ®