Intel's 14th-gen Raptor Lake Refresh turns turbos up to 6GHz, gives i7 an E-core bump
TSMC-equipped Meteor Lake mobile parts not coming until December
Intel launched its 14th-gen desktop CPUs, codenamed Raptor Lake-S Refresh, on Monday promising more efficiency cores and higher clock speeds. This includes an i9 that the chip giant says can touch 6GHz, so long as the stars align and thermals are kept in check.
As the codename suggests, the CPU, which include the 14600K, 14700K, and 14900K along with their GPU-less KF variants, are, with a few exceptions, essentially refined versions of last year's Raptor Lake parts.
The most notable change is to maximum boost clocks, which have gone up by 200MHz across the board compared to the 13th-gen hardware. This makes the headline feature for Intel's flagship i9 14900K a 6GHz boost frequency on at least one of its 24 cores.
It's worth noting this isn't the first time Intel has claimed a 6GHz part. Earlier this year Intel launched the enthusiast-class 13900KS, a binned piece of kit reportedly capable of exceeding 6GHz with conventional cooling and 8GHz when using something a little more exotic.
While the i5 and i9 feature the same mix of P- and E-cores as last year, at 14 and 24 cores respectively, Intel has seen fit to throw four more E-cores at its i7 14700 this time around, bringing the total to 20 cores and 28 threads. Alongside the higher clock speeds, Intel claims [PDF] the 14700K/KF is about 18 percent faster than last year's i7.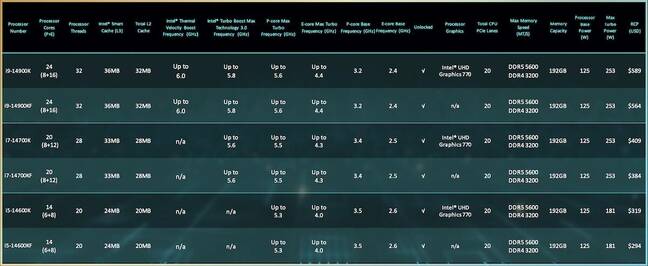 Intel's 14th-gen Core-series processors boost max clock speeds by 200MHz across the board. - Click to enlarge
Beyond this, the chips haven't changed all that much. Both 13th and 14th-gen desktop parts are based on the Intel 7 process node — what the chipmaker used to call its 10nm SuperFIN process tech — and on the K-series parts use the same HD 770 graphics. Those looking to save a buck can still opt for a GPU-less KF-series part.
On the bright side, the improvements Intel has managed this generation don't apparently come at the cost of higher power consumption. Like last year, the i9 and i7 are each rated for 253 watts, while the entry-level i5 comes in at 181 watts. So, while you'll still want to budget for a beefy cooler if you ever want to see that 6GHz figure in the real world, these chips shouldn't be any harder to cool.
Motherboard compatibility is also a plus as Intel's 14th-gen parts are backwards compatible with 600- and 700-series chipsets, including those using older DDR4 3,200MT/s memory. Speaking of memory, the parts officially support JEDEC DIMMS up to 5,600MT/s.
However, toggling on Intel's XMP memory overclocking profiles, and the chipmaker claims customers should be able to overclock their memory beyond 8,000MT/s. Remember, the speed rating on most consumer DDR5 is usually an overclocked figure, which your CPU and motherboard may or may not be able to achieve without compromising stability.
In terms of performance, Intel says its flagship i9 outperforms AMD's top-specced Ryzen 9 7950X3D and 7950X processors by as much as 23 percent on average in in a variety of popular games, including Starfield, Total War Warhammer III, Counter Strike Global Offensive, and Civ VI. However, a look at the fine print [PDF] reveals some questionable choices including Intel running its Ryzen 9 7950X3D benchmarks on the balanced power profile, and none of the tests leveraged XMP and AMD Expo.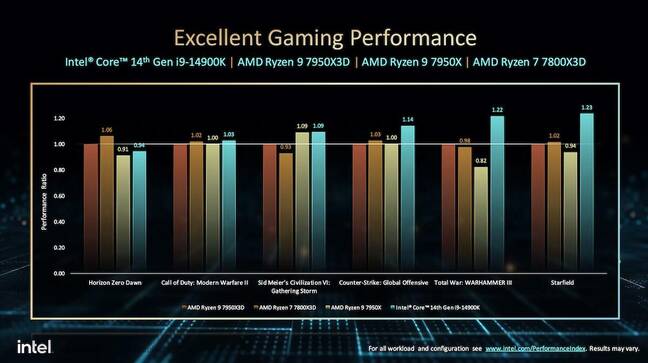 Intel claims as much as a 23 percent performance advantage over AMD's flagship desktop CPUs. - Click to enlarge
We've included some of Intel's performance claims here, but as usual we recommend taking them with a grain of salt.
Regardless of how the chips perform, Intel isn't charging any more for its CPUs this time around. Intel's 14th-gen desktop parts are slated to hit store shelves tomorrow, starting at $294 for the i5, $384 for the i7, and $564 for the i9. Onboard graphics will cost you another $25.
14th-gen's more interesting sibling still on the way
While Intel's 14th-gen desktop parts may be a refinement on last year's Raptor Lake processors, the same can't be said of the company's upcoming  Meteor Lake mobile parts, teased at Intel Innovation in September.
The chips are Intel's first to integrate a TSMC-made Arc GPU chiplet packaged alongside a CPU, I/O, and SoC tiles using the chipmaker's Foveros 3D-packaging tech.
The chip also features an onboard neural processing unit (NPU) derived from its Movidius vision processing system to accelerate a variety of on-device AI workloads, which Intel expects will be the next killer app for PCs.
Of course, as we've previously pointed out, Intel is a little late to the party in this respect, with NPUs a staple of Apple and Qualcomm SoCs for years, and AMD integrating similar kit into its Ryzen 7040 parts earlier this year.
Arguably the more important innovation, is the chip will be the first mainstream product to use Intel's Intel 4 process tech. The process node has faced repeated delays over the past few years which pushed its release out by well over a year.
Intel's Meteor Lake processors are due out December 14. ®